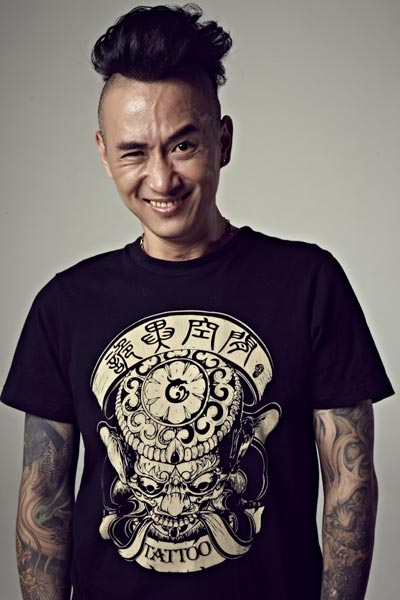 Tattooist He Wenqian. Photo provided to China Daily.
Chen Qimei, a mother and 34-year-old website editor, says she conceals her ink from her mother-in-law.
"I accidently exposed it to her once and told her it was only temporary," Chen says.
"But I'm more open-minded. I'd certainly let my child get a tattoo. Still, I'd warn her it's a lifelong decision that she should carefully consider."
Her first tattoo in 2005 wasn't about stylistic expression but rather to cover a scar on her left knee from a childhood accident.
"I really hated my scar," she says.
One day, she noticed several tattoo shops in Beijing's Longfusi area.
"The idea of covering the scar with a tattoo came to me," she recalls.
Her first tattoo experience wasn't as positive as her second and third.
"It hurt," she says.
"That artists didn't sterilize my skin or even wear gloves. For a long time, I worried I'd contracted HIV."
Later, after her fears of disease were allayed, she thought the rose on her kneecap could "bring more attention".
"Not so many people were familiar with tattoos as art in 2005," she recalls.
"People would stare at me when I walked on the street. They must have thought: 'Why does this quiet, good girl have a tattoo on her knee?'"
Few would think anything of it today.
He, the tattooist, says many people wander into his two-story studio in Beijing's trendy Sanlitun area after mistaking it for a teahouse or traditional art gallery because of its classy interior. The spacious area has a painting table in the center and artistic tattoo paintings and photos on the walls.
The 35-year-old ranks among the industry's pioneers. He now owns studios in Shanghai and Yunnan province's capital Kunming, and employs dozens of full-time artists.
We recommend: