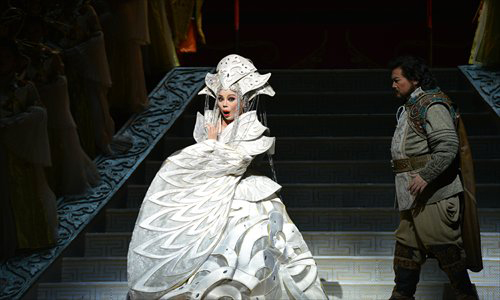 Sun Xiuwei stars as the title character of Turandot in NCPA's all-Chinese version. (GT)
Turandot, a story set in China, was created as an opera by Italian composer Giacomo Puccini and has since been told and retold by many Western artists. China's National Centre for the Performing Arts (NCPA) has its own original production of the romance, which has been staged seven times since premiering in 2008.
In 2011, NCPA brought its Turandot to Seoul, but now it has bigger ambitions - to introduce the work to the world.
A new film for worldwide release captures this original production, and stars soprano Sun Xiuwei, tenor Dai Yuqiang and basso Tian Haojiang. Filmed last month, its release date has yet to be announced.
Quite the introduction
According to Ma Rongguo, head of NCPA'S art resource center, NCPA has produced 25 operas over the years, and currently they are looking at the mature ones to decide which will be made into opera films.
The main purpose is to "introduce the good works and good artists of China abroad via high-definition DVDs and Blu-rays," Ma told the media in a group interview.
The production of Turandot in the film has an all-Chinese cast, which Ma believes will be a highlight for the opera, as China is the setting of the tale.
Ma said that besides a group of talented singers, NCPA boasts a world-class stage design team. "We are also doing this as an introduction to the NCPA," Ma said. "Every year, we launch tours abroad. We need a product to show them what the stage at NCPA looks like and the production level of NCPA."
"It's harder to grasp that with only words," Ma added.
Italian opera film director Tiziano Mancini and his crew was invited to shoot Turandot. Ma views this, too, as a chance for communication and learning.
"[They] have extensive experience filming operas. That is what we lack," Ma said.
It's not only about capturing the vocal performances, but also using the best shots to convey the story, he continued.
Besides Turandot, two of Italian composer Giuseppe Verdi's masterpieces, Nabucco and Un ballo in maschera, have also been made into films by the NCPA.
The release dates for these haven't yet been decided.
We recommend: