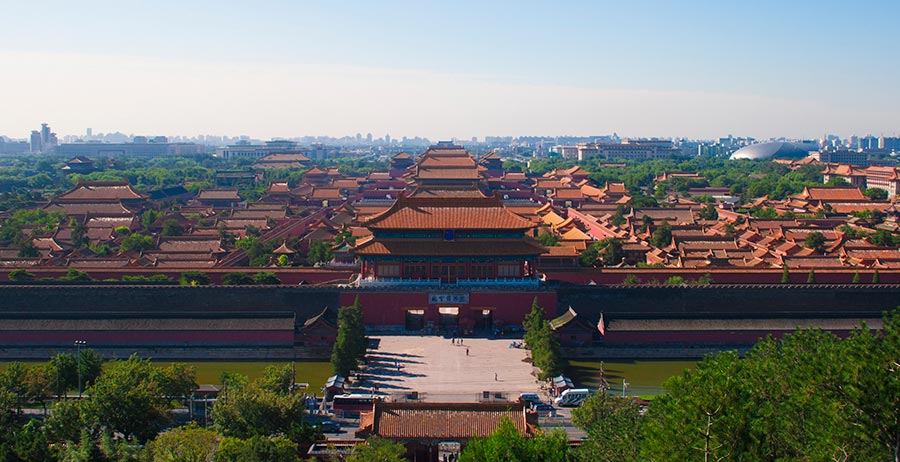 The quintessential view of the Forbidden City from Jingshan Park. [Photo/Crienglish.com]
Lots of people arrive in a new city, and the first thing they want to do is go up high. Upon entering a new environment, some part of the psyche yearns to grasp the bigger picture of a city, and acquire a perspective that can only be gained from a tall height. Granted, the number of clear weather days in Beijing seems to be fewer than those where fog limits views, so it's worth checking the current AQI index before trekking out to any of these classic places to gaze down into the soul of the city.
Jingshan Park
The capital's skyline is changing by the day, but almost a thousand years since its creation, Jingshan Park remains dead center of the core of downtown Beijing, sandwiched between the Forbidden City and the Drum and Bell Towers. It will always be the definitive place to check out Beijing.
Standing at a mere 48 meters above the rest of the city, Jingshan "mountain" may seem unimpressive in comparison to other mountains, as really, it is just a hill, but it's a hill that was laboriously built up by the hands of men. The dirt and rocks which comprise the mountain were excavated from the very moat and canals which surround the Forbidden City. And even at its low altitude, it still provides epic panoramas of the city, as skyscrapers have all been held back from the immediate vicinity. For those who are after an impression of just how massive Beijing is, Jingshan is still the place to go.
But Jingshan offers much more beyond its views, with a rich history and full-on local culture. Old Beijingers rule this roost, often taking over the place to do tai chi, play music, and dance. This site is not to be missed.
Jingshan Park
Entrance fee: 2 yuan
Location: Just north of the Forbidden City, Jingshan Front Street.