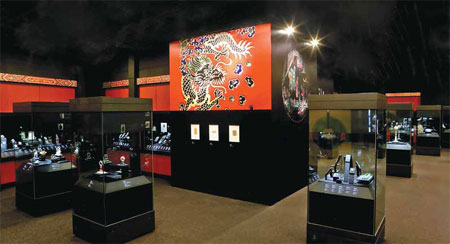 Visitors can see the glitz and glamor of the royalties in the East and West in an exhibition jointly organized by Cartier Collection and Liaoning Provincial Museum. Gan Tian takes a closer look at the exhibits.


Diamonds are a girl's best friend. So are rubies, pearls, jades, and sapphires, for some. An ongoing exhibition, A Story of Style and Heritage, is about a girl's best friends.


Presented by Liaoning Provincial Museum and the Cartier Collection, the exhibition showcases various precious jewelry, including hair crosspieces used by empresses and other imperial concubines in the Qing Dynasty (1644-1911), brooches worn by the Duchess of Windsor, and the tiara owned by Elisabeth, Queen of the Belgians.


The exhibition, which kicked off in the middle of September, features three individual parts: Evolution of a Style, Chinese Inspiration, and Precious Objects.


In Evolution of a Style, visitors can find various eye-dazzling tiaras, brooches, bracelets, and earrings from Cartier, all created in the early 1900s. This section demonstrates how Cartier's style changes with time. From the jewelry, visitors can also gauge how big the various social events were.
The Arc de Triomphe brooch, which was made in 1919, has gold, platinum, and rose-cut diamonds. It sparkles with sapphire cabochons, fancy-cut faceted rubies and emeralds, and onyx. The sapphire cabochons were used to decorate the helmets of soldiers who paraded down the Champs-Elysees, to celebrate WWI victory on Bastille Day (July 14, 1919).
The Bird of Paradise brooch, which is placed in the middle of the hall, is one of the most precious pieces of jewelry exhibited at this time. The brooch is 20.2-cm-long, and weighs 156.45 grams, sparkling with one giant emerald-cut diamond of 2.76 carats and another 991 small diamonds, with a total weight of 83.89 carats.
These special items reflect the time's trend, and their popularity in the 1930s and 1940s. They embody rich colors, bold geometric shapes, and lavish decorations, all of which can be found in Cartier pieces.