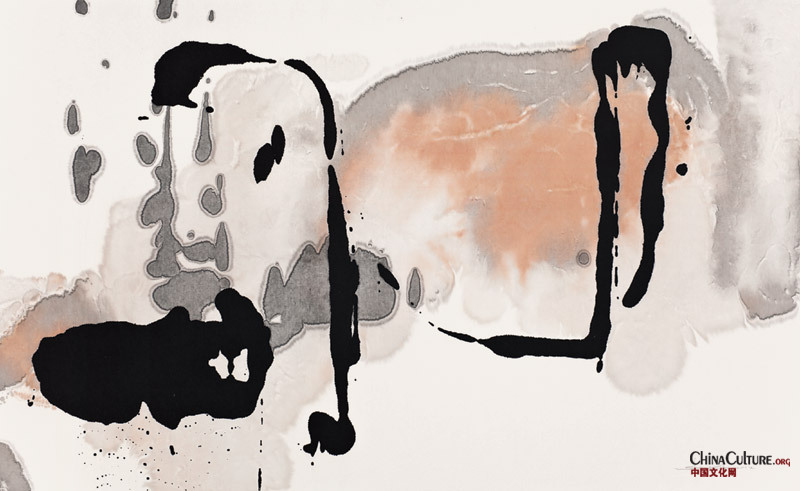 Dynanic Origin series by Hou Shanhu
The Hou Shanhu Art Exhibition "Dynamic Origin" is currently underway at the 798 art zone and will run through October 6, 2013.[photo/chinaculture.org]
Chinese ink painting and adventure. These two things seem to have no relevance to each other, but artist Hou Shanhu feels they perfectly can be combined into one form.
Completely different from her father's style, Hou Yimin, a well-known oil-painting artist, she has chosen an adventurous art road. Just as her father said, "We adopt the policy of one family, two systems in art," but "her works are not bad."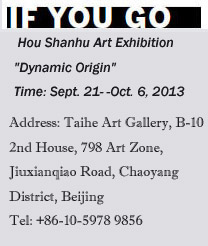 "I just play like a child when I am engaged in an ink-painting art creation. What I explore and express is the dynamic origin and the primitive state of nature and life. No rules, no bonds, but natural," Hou said at the opening of her art exhibition at 798 on September 21. "The artist needs an adventurous spirit. It's the time," she added.
In Hou's abstract Chinese ink paintings, one can almost hear the different dialogues between nature and the human being. Sometimes, simple black and white colors represent an embodiment of the yin-yang concept from Chinese philosophy but "they have dialogue" in her eyes.
"Hou Shanhu's ink paintings are an extraordinary risk," Jia Tingfeng, the exhibition's curator said. "What touches me in her work is not the lines or color, but 'Daoism', which embodies the reflection of the origin of nature in Chinese culture, she creates a strange and carefree art world from her own pure mind and unusual experiences," Jia commented.
We recommend: