Almost unknown in China a decade ago, the lively dance has found a following in the Middle Kingdom. Chen Nan steps out with a lively crowd.
Tom Steinhauer, 11, and Chen Sirang, 10, giggle shyly and fiddle around before their Friday night youth salsa class at Beijing Phoenix Dance Studio. But when the music starts, they are transformed — a salsa prince and princess, twirling and twitching to the beat of horns and bongo drums.
"She likes it very much," says Chen Guoning, Chen's mother, a lawyer based in Beijing. "Salsa is different from her other after-school classes. It is fun."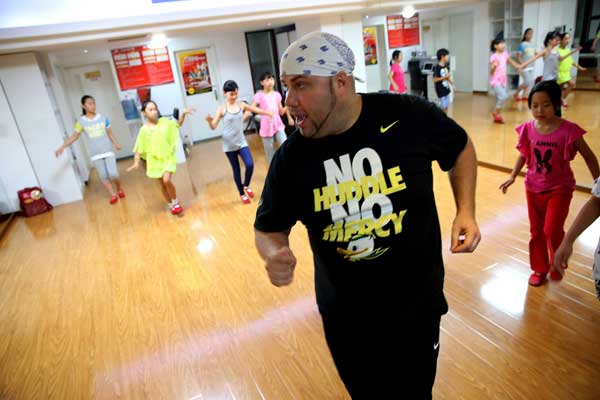 Jack Dunn from the US state of Arizona teaches salsa at Beijing Phoenix Dance Studio, which he started in 2005. Jiang Dong / China Daily
Around two years ago, Chen took her daughter to the salsa studio, which was launched by Steinhauer's mother, Wang Xiaoyan. The two children are classmates at a Beijing primary school and now almost half of their classmates are learning salsa at the studio.
"He is at the elementary stage and is very interested. We would dance at home," says Wang, a former Olympic gymnast and an active participant in Beijing's salsa community. "It's a great hobby."
In the upcoming China Salsa Congress, which will be held for the fifth year from Oct 3 to 6 on the Great Wall, Wang will compete and perform exhibition dances along with over 1,000 participants from all over the world. Her son, together with his classmates, will also perform in the Kids Camp section of the event.
Wang competed in the 1988 Summer Olympics in Seoul, South Korea and after retirement, she went to study in Germany, where she met her husband Stefan Steinhauer and also fell in love with salsa. After returning to Beijing eight years ago, she learned salsa at Beijing Phoenix Dance Studio with Jack Dunn, who started the studio in 2005. Dunn and his wife, salsa dancer-teacher Xu Weizhen, also launched the annual China Salsa Congress.
With her experience as a gymnast, Wang caught on very fast and has won three championships at the congress.
"When I started dancing salsa, I was not serious and did it just for fun. The more I learned, the more I want to challenge myself like I did for the Olympics," says Wang, 45, who also competed in the World Salsa Championships in 2006 (Las Vegas, Nevada) and 2007 (Orlando, Florida).