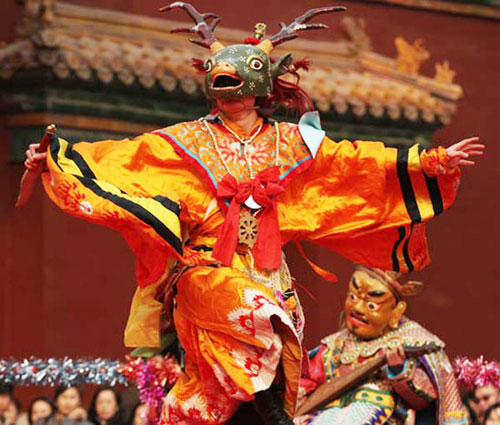 A lama performs a traditional Buza Dance in Beijing's Yonghegong Lama Temple on Monday, as part of an annual ritual to pray for prosperity. (China Daily/Wang Jing)
Masked lamas performed their annual "devil dance", a ritual believed to ward off disasters and ghosts, on Monday at Yonghegong Lama Temple in Beijing.
The performance, also called Buza Dancing, a term that originates from the Mongolian language and means "beating the devils", is held every year on the 30th day of the first lunar month.
On Tuesday morning, the last day of the ceremony, lamas will circle the temple while carrying a golden statue of Maitreya Buddha, also known as the Laughing Buddha, an embodiment of kindness. A large group of Buddhists will follow behind.
This will mark the climax of an eight-day ceremony that monks observe to pray for peace and prosperity in the coming year.
The devil dance has been held annually since 1987, when it was reinstated after a period of suspension, said Su Wentao, deputy director of the temple's cultural relics and exhibition department.
He said lamas started to prepare for the annual ritual about a month ago. A stage was set up last week, covered with red carpet, and lamas would rehearse after visitors to the temple had left.
"Not all lamas will participate," Su said. "Younger lamas are normally chosen because the dance requires physical strength and stamina."