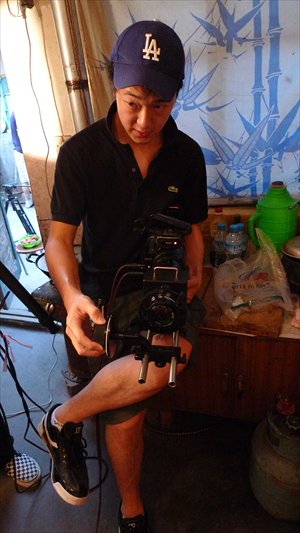 Lights, camera, funding! Long-Cuu Phan is raising money abroad for his China-based project. Photo: Courtesy of Long-Cuu Phan
Like many independent film directors living in China, Long-Cuu Phan Phan, 28, a Los Angeles native who began filming at age 23, finds funding his film projects a struggle, and often turns to external sources for support.
His new independent feature Youth will soon be shot in Beijing, but it relies financially on online donors from the creative support website Indiegogo.
Phan posted a campaign page on the website and a video on Youku where Phan introduces himself and the plot of his new film, which he describes as "Post-'90s kids in China who live in a dreamworld until they wake up to adulthood."
He's currently raised $2,000 of the $12,000 he hopes to raise.
"There is so little money for indie films, but technology has made filmmaking accessible to anyone with a modest budget and an idea," he says.
Independent filmmakers in China don't think of Beijing as a lucrative avenue into the film world. Instead, the attractions are the cheaper production costs and a country full of inspiration. Now creative support websites like Indiegogo and Kickstarter have given independent filmmakers the means to fund their creative projects in China.
"I ultimately chose to use crowd sourcing because there are enough people in the world who are interested in the kind of work I do," Phan says.
Wang Weikai, 40, a director from Guangzhou, Guangdong Province, now based in Beijing, says he has never received support for his films at home in China, and has instead benefitted from overseas support he's applied for online from groups such as the Asian Cultural Council and the Busan Film Festival.
Wang is in the midst of making a short as well as a feature film in China, which he hopes will bring in some revenue. Despite having done so in the past, Wang says the likelihood of making money in independent films remains a very small hope.
Wang's decade-long career in filmmaking may have reaped the advantages of help from abroad, but he says there is no formula to winning over those with the clout to sufficiently back a film idea.
Others prefer not to cater to Internet audiences or other powers that be. Lance Crayon, 40, is from Texas and has worked extensively in the US as a talent agent and producer in Los Angeles before moving to Beijing in 2009. Crayon says he shies away from using crowd-sourced online donors for his projects, which focus on changing cultural phenomena in the capital.
"I know of websites like Kickstarter and Indiegogo that are very popular now, but I don't want to be reliant on or thankful to anyone for what I've produced," he said.
Crayon says the beauty of filming his most recent documentary, Spray Paint Beijing, about graffiti culture in China, was having the freedom to work truly independently: just him and his camera.
"From working as an agent in the US, I know how it goes when someone's project goes horribly wrong and people demand their money back," he says.
Phan nonetheless is confident his new feature will be funded and completed by July.
At the end of the day, Phan says, the most important aspect of indie filmmaking is to create work well-crafted but also emotionally resonating."
"A world-class indie film in China should challenge the viewers' expectations with a vision of modern China that is authentic yet unexplored," he says.
By Jack Aldane