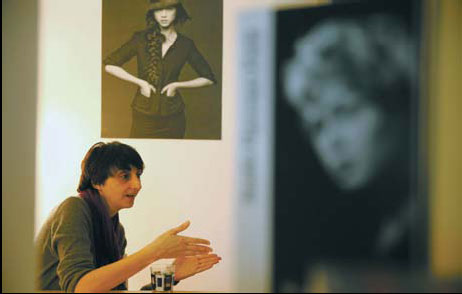 Isabelle Glachant makes a point in her Beijing studio. Jiang Dong / China Daily
Isabelle Glachant had wanted to see The Artist, the Academy-Award winning French film. She quickly found out that very few theaters in Beijing were screening it, and those that did either showed it very early or very late in the day.
"I thought that to see a black-and-white French silent film in a Beijing theater would be a very special experience," says the independent producer, who also works as the China representative of Unifrance, an organization that promotes French films overseas.
She was disappointed, however. At the end of the year, Chinese theaters were showing commercially attractive films, such as Chinese Zodiac and Lost in Thailand, and there was little room for art-house films like The Artist.
A film like that, Glachant says, would have at least one week in French theaters and a special hall that would screen it all day. Theater managers get government subsidies to do that.
"Movies are art - not business. That is how we define it in Europe," she says.
Glachant is concerned not just about French art-house films but also those made in China. She has worked with some of the most celebrated Chinese art filmmakers, such as Wang Xiaoshuai, Jia Zhangke and Lu Chuan, helping them promote their works in Europe.
Her relationship with these directors goes back to 2005, when Wang Xiaoshuai's Shanghai Dreams was selected by Cannes as a competition entry. The director was bogged down by work before he set out for Cannes, and he knew no French.
He asked Glachant for help. They went to Cannes together, where Glachant also found a French buyer and distributor for his film, which took home the Jury Prize that year.
"Many art-house directors in China are their own scriptwriters, marketing directors and media coordinators," she says in fluent Chinese. "But in France, they have sophisticated producers who find money and buyers for them. I think these Chinese directors are very talented, so I'd love to lend them a hand."
The French government is known to favor art house directors. Producers can apply for various funds, and many TV stations are obliged to shoot, buy and broadcast a certain number of art-house films every year.
With Glachant's help, Wang's 2012 11 Flowers got financial aid from the French Ministry of Foreign Affairs and the Southern Cinema Funds, and became the first beneficiary of the co-production deal the two countries signed in 2010.
According to the deal, 11 Flowers was released in France as a French film. About 40,000 tickets were sold in three weeks. Arte Plus 7, a French TV station and supporter of art cinema, bought the copyright for five years.
Glachant is not only involved in Chinese art house film promotion but also works as a consultant on how to make the plots more accessible to Western audiences.
When Lu Chuan was editing The City of Life and Death, Glachant sat with him. The film ended with the two young survivors walking, and the flowers by the road suddenly blossom and the black-and-white film turns into color. Glachant told Lu that the ending destroyed the film's solemn tone and its subject - a massacre during World War II.
Lu took her advice.
The film was released in France as well, and while box office revenues were slim, it was well received among critics. Lu has become one of the few Chinese art-house directors who enjoys recognition in France.
In her years of promoting Chinese cinema in Europe, Glachant was frustrated to find there are so few recognizable names. Zhang Yimou and Chen Kaige are well known, but only due to their early works in the 1980s and '90s.
Younger directors who are better known include Wang Xiaoshuai, Jia Zhangke and Lou Ye, but not many new names are turning up.
Many young directors come to Glachant, asking her to help them win awards in European film festivals. Glachant tells them to go home and perfect their work.
"Making a film is like raising a baby," she says. "You want it to be a lawyer, but maybe he or she wants to be a ballet dancer. If you choose a festival and adjust your film to cater for it, you have lost your way."
Even as she helps Chinese directors find fame in the West, Glachant encourages them to connect to Chinese audiences, because they are the people who really understand the stories.
She remembers when Wang Xiaoshuai's In Love We Trust was competing at the Berlinale in 2007, many Western viewers told her they did not recognize the Beijing they saw in the film.
"For them, Beijing is the Forbidden City and the Great Wall, but the film deals with a real community in contemporary Beijing, where Wang actually lives," she says.
"I think deep in his heart, every director wants to tell stories of his own land, and hopes his friends, neighbors and family will really understand what the story is all about."
liuw@chinadaily.com.cn
By Liu Wei (China Daily)