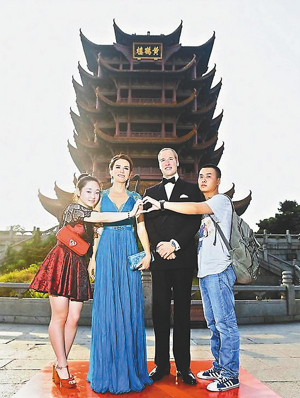 China's smothering heatwave poses all kinds of threats not only to natives, but also to Prince William, and his wife Kate, Duchess of Cambridge, on their first trip to the country - or at least to their wax effigies.
The "couple" from the London's Madame Tussauds Wax Museum were sent to Wuhan, central China, two weeks ago, for a brief exhibition to promote a planned branch in the city, well known as one of China's "furnaces" for its roasting hot summer.
Their debut in front of the Yellow Crane Tower, a landmark of Wuhan, lasted only three hours on Tuesday morning, before they were hustled indoors to escape, not just from throngs of excited tourists, but from the heat that hit a high of 38 degrees Celsius or 100.4 degrees Fahrenheit.
Numerous online posts of tourists posing with the wax couple, had Chinese netizens joking that the summer heat had scared away the Duke and Duchess of Cambridge and they would melt if exposed to too much sun.
The exhibition organizers refuted the speculation, saying the waxworks are made of heat-resistant materials which would not be damaged by the heatwave.
"The melting point of wax used for the works is high enough to stand the weather. So, they will not melt in the sun. What's more, the statues, except the heads, are made of fiberglass. So, they will be safe," Sophia Zhang, PR manager with Madame Tussauds Wax Museum Wuhan, told Xinhua.
"Most tourists came in the morning and, as there were few afterwards, we took them indoors. They may also need a rest," she said.
Zhang said the wax William and Kate would be on permanent display in the Wuhan branch of the museum, which is to open in the autumn.
With a history of over 200 years, Madame Tussauds has expanded its business in China, opening in Hong Kong and Shanghai, with statues of celebrities including Jacky Chan, Yao Ming, Bill Gates and David Beckham.
We recommend:
Guangdong celebrates "Qiqiao" festival
Chinese reggae band aims for global success
Tibetan musician seeks new style to promote local culture