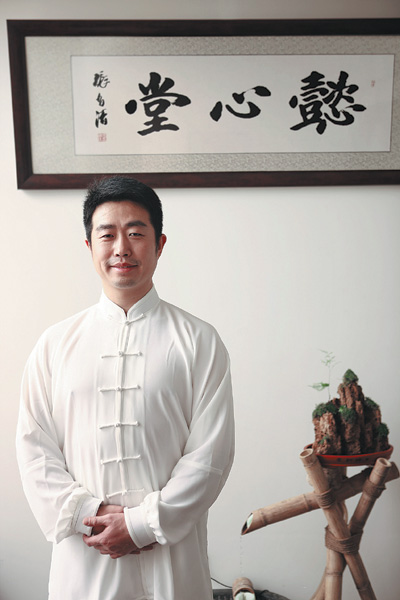 Liu Qing treats his patients with Chinese massage, the mechanics of martial arts, acupuncture, scraping, cupping and sports medicine. Photos Provided to China Daily
TCM heals with a regime that includes body and mind, as Mike Peters intimately discovers in Beijing.
The elevator glides noiselessly to the top floor of a 10-story residential building in Beijing's Sanyuanqiao area, and I step toward apartment number 1009 with the same anticipation I came with last week. I am hoping Master Liu Qing will beat me with a stick. Two sticks, in fact.
Liu, 41, is no reincarnation of the 18th-century Marquis de Sade. The martial artist from Cangzhou, Hebei province is a master of regional styles such as kaimen baji quan, which means "open-gate eight-extremities fist". A leading teacher of this style once famously said, "I do not know what it's like to hit a man twice."
Liu, however, is not waiting behind his door for any sort of combat. His training - which starts in childhood for boys in his hometown - also included health-oriented offshoots of his martial arts. Today, his holistic practice includes Chinese massage (qigong), mechanics of martial arts, acupuncture, scraping, cupping and sports medicine.
In the treatment I'm anticipating, his sticks are a pair of cloth tubes about the size of small umbrellas, and they are packed with sand, beans and herbs and stitched up to form rods or "sticks".
In Liu's hands, the effect is more reminiscent of Charlie Watts, the Rolling Stones drummer, than David Carradine. The technique is energetic and stings like the devil, yet it's oddly soothing.
The sticks also have a cool story behind them.
A fifth-generation court medicine practitioner, Chen Zuoxuan, recently told a national medical conference that the rods were first documented in 1901 during the Qing Dynasty (1644-1911).
Head eunuch Li Lianying developed the energetic meridian-beating approach, and is said to have pleased the Empress Dowager Cixi by reviving many of the concubines and imperial maids in the palace from severe depression or other ailments, curing them in just 20 days.
The delighted empress declared, "You should also make some improvement on the rods. Instead of stuffing them with sand, you should think about using some herbs. Let's call them Auspicious Rods."
At the 21st-century massage studio of Liu Qing (liushiyixintang.com), they are called "Astrotech rods". But while Liu has made a point of studying Western and contemporary medicine (at a medical institute in Fangshan district of suburban Beijing), his art is firmly rooted in Chinese tradition. The pair of rods he uses are a modified version of traditional implements for martial artists, who use longer, thicker rods to hit their own bodies to promote blood circulation and flow of qi through meridians.
Upon arrival, visitors are waved to a seat at a low tea table, a wide, glass-topped bronze bowl surrounded by four legless chairs. A solitary goldfish roams the aquatic landscape below the dark brown clay tea service, and Liu prepares a light green brew with movements as graceful as the swimming fish.
The burbling air pump blends into a gentle fugue with a recorded Tibetan chant as Liu gently pours the tea's first steeping on the heads of three Buddha clay figures perched on the tea tray. He reaches for more hot water, and pours the next brew into delicate cups, first for his client, then for himself.