Learning Chinese at China Cultural Center in Berlin
Updated: 2019-09-30 14:48
(chinadaily.com.cn)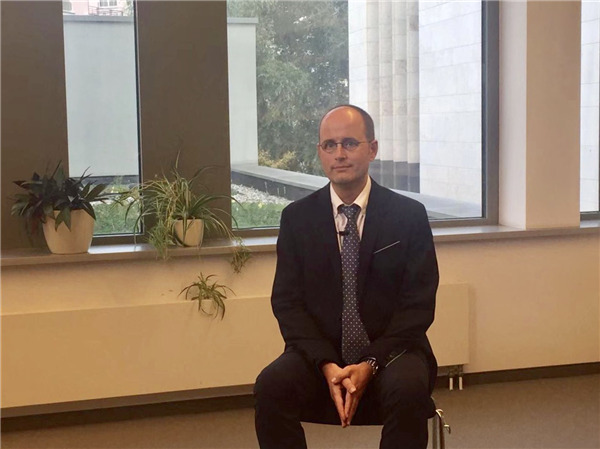 Alexander Straßmeir, president of State Office for Refugee Affairs, sits down for an interview at the China Cultural Center in Berlin, Sept 24, 2019. [Photo by Feng Minghui/chinadaily.com.cn]
Alexander Straßmeir, president of the State Office for Refugee Affairs
"I like Sodagreen's music," said Alexander Straßmeir, president of State Office for Refugee Affairs during an interview with China Daily Website.
It may sound interesting that this cheery middle-aged man who comes from a background steeped in Bach and Beethoven's music, can ever fall in love with Sodagreen, a Taiwan pop-rock band, but Straßmeir's love for Chinese language and culture can somehow offer an explanation.
"My interest in Chinese was piqued on my second trip to China," Straßmeir said in fluent Chinese, adding that, "I have been to China five times and among all those cities I've been to, I love Beijing best."
In Beijing he could buy the "scholar's four treasures" (writing brush, ink stick, ink stab, and paper) on the cultural streets, the German official, an aficionado of Chinese calligraphy, said.
"Chinese has the most beautiful characters in the world. I chose to practice Chinese calligraphy because it reflects the beauty of Chinese culture," Straßmeir explained.
Even though the he found the tonal system in Chinese really challenging, Straßmeir said he enjoyed learning the language as it is like a mirror in which he could see a different way of thinking behind the language itself.
Speaking of cultural exchange between China and Germany, Straßmeir commended efforts by schools in Berlin and Beijing, two sister cities. "They are doing a great job in promoting the exchanges of students," he concluded.