Learning Chinese at China Cultural Center in Berlin
Updated: 2019-09-30 14:48
(chinadaily.com.cn)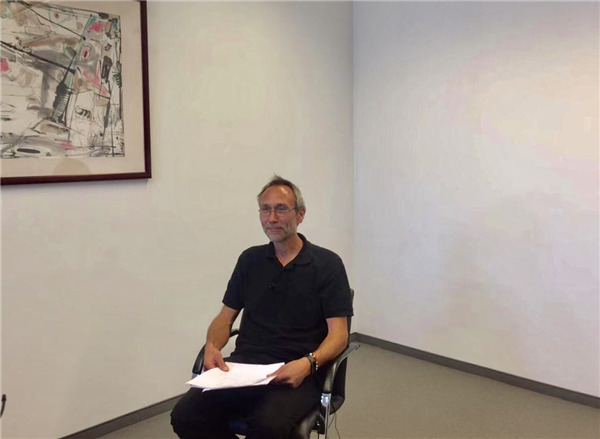 Andreas Pietsch, history professor at University of Münster, sits down for an interview at the China Cultural Center in Berlin, Sept 24, 2019. [Photo by Feng Minghui/chinadaily.com.cn]
When it comes to Germany, music buffs may immediately hum Bach or Beethoven's classical melodies, soccer fans would call watching Bundesliga one of their must-see events, and philosophy lovers might secretly go over the theories of Hegel and Kant.
However, how much do Germans know about China and Chinese culture? Four learners at the China Cultural Center in Berlin recently shared with us their stories of learning Chinese and Chinese culture.
Andreas Pietsch, history professor at University of Münster
"I decided to learn Chinese after I met a beautiful Chinese woman in Spain several years ago and we are still in contact on WeChat," Andreas Pietsch, a history professor at the University of Münster said shyly.
While learning Chinese at the China Cultural Center in Berlin, Pietsch, a music lover, was gradually drawn to traditional Chinese instruments. Two years ago, he began to learn to play the guzheng, or the Chinese long zither, at the center, and Fishermen's Song at Eventide, a guzheng masterpiece, is his favorite. Also, the German enjoyed learning the basics of the beautiful horse-head fiddle during a trip to North China's Inner Mongolia autonomous region.
Having traveled to China several times, Pietsch said he planned to visit all six sites on the Renminbi banknotes–West Lake in Hangzhou, Mount Tai in Shandong province, the Lijiang River in Guangxi, the Three Gorges of the Yangtze River, the Potala Palace in Tibet and the Great Hall of the People in Beijing. So far he has visited five, except the Potala Palace.
Noting a strong China-Europe cooperation in trade and business, the professor also called for more youth exchanges between the two sides in the future.