Chinese shadow puppetry exhibition starts in Morocco
Updated: 2019-06-21 10:21
(Xinhua)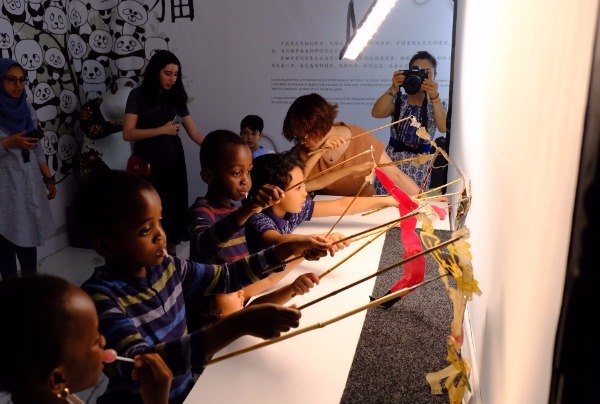 The exhibition will continue until the end of June, including the Chinese shadow play performance and a hand-made workshop dedicated to children's shadow puppetry production.[Photo/Xinhua]
The Chinese shadow puppetry exhibition -- "Art of Light and Shadow" -- was held in the Moroccan capital Rabat, which was the first event of the 2019 China Tourism and Culture Week in Morocco.
The shadow props made of cowhide flew up and down in the hands of the artist, presenting a playful and vivid scene on the curtain, winning praise and applause of the audience, at the opening ceremony on Wednesday.
Alia Baghdad, a 10-year-old Moroccan girl, told Xinhua that "this kind of performance is so interesting. I like the Chinese culture."
Chen Dongyun, cultural counselor of the Chinese Embassy in Morocco, said that as one of the traditional forms of the Chinese art, the shadow play shows the wisdom and dexterity of the Chinese culture.
"I hope that the Chinese Shadow Art Exhibition will allow the Moroccan people to get a close look at China, feel Chinese culture, and promote the development of the two countries in the fields of culture and tourism," she said.
The exhibition will continue until the end of June, including the Chinese shadow play performance and a hand-made workshop dedicated to children's shadow puppetry production.
The culture week in Morocco will continue until mid-July. During the period, cities including Rabat, Casablanca and Tangier, will hold activities such as photo exhibitions, costume exhibitions, tourism promotion conferences, and film screenings.