Chinese acrobatic troupe performs in 2018 Fiji Showcase Xmas Special
Updated: 2018-12-12 17:19
(Xinhua/Chinaculture.org)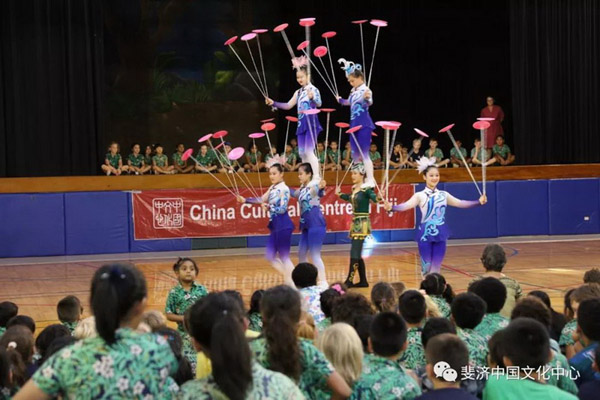 Young Chinese acrobats perform during the 2018 Fiji Showcase Xmas Special, which ran from Nov 24 to Dec 1, 2018. [Photo/Chinaculture.org]
The Fiji Showcase attracts nearly 100,000 people each year in the capital city of Suva. This year's event was a special one due to the unusual time of the year. The Xmas Special gave everyone a chance for one-stop shopping for Christmas, as well as the opportunity to enjoy the food, rides and local entertainment.
During the carnival this year, the Inner Mongolian Acrobatic Troupe from China joined hands with many other performers, including the Zimboyz from Zimbabwe and Australians' favorite clown, Christof, to bring diversified performances to local people.
Invited by the China Cultural Center in Fiji and Inner Mongolia's Culture and Tourism Department, the Chinese troupe staged seven performances during the Showcase.
This year's Fiji Showcase Xmas Special, held from Nov 24 to Dec 1, covered a diverse range of products, services and entertainment to ensure that the needs of consumers were catered to in totality. These included fashion and beauty, home furnishings, technology and electronics, general products, outdoor living, lifestyle, arts and crafts, and other categories.