2018 Chinese Film Day held in Malta
Updated: 2018-04-13 14:14
(Chinaculture.org)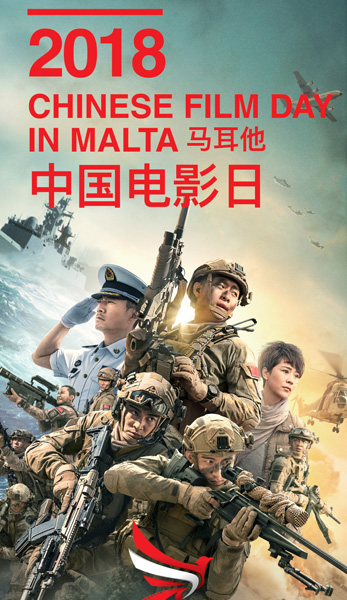 The poster for the 2018 Chinese Film Day in Malta. [Photo/Chinaculture.org]
The 2018 Chinese Film Day was held at the Valletta Campus Theater at the University of Malta on March 29. The event was co-organized by the national film bureau of the Publicity Department of the CPC Central Committee, the Chinese Embassy in Malta and the China Culture Center in Malta.
More than 130 audience members attended the event, where they watched film Operation Red Sea, an action film based on a Chinese naval rescue mission.
"This is the best Chinese movie I've ever watched," said Tony Darien, artistic director of the Mediterranean Conference Centre and also a famed actor, screenwriter and director in Malta. 
Premiering during the 2018 Chinese New Year holiday, Operation Red Sea, with spectacular visual effects and strong word-of-mouth, outperformed its competitors and topped the Spring Festival box office. In total, the blockbuster raked in more than 3.5 billion yuan, making it the second-highest-grossing Chinese film of all time.
An exhibition of posters for classic Chinese films was also held at the event, featuring a selection of 25 posters that summarized the century-old history of Chinese film. On display were posters for The Dream of the Red Mansions, Monster Hunt and Wolf Warrior 2.