'Jewish Refugees and Shanghai'exhibition tour in Sydney
Updated: 2015-04-27 17:08
(Chinaculture.org)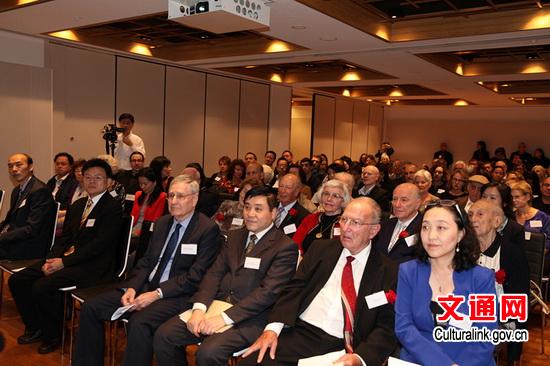 Guests participate in the opening ceremony.[Photo/Culturalink.gov.cn]
An Australian exhibition entitled "Jewish Refugees and Shanghai" was held in the Sydney China Cultural Center on Apr 20. More than 100 officials and guests, 6 Jewish refugees included, took part in the opening ceremony.
The exhibition tour is divided into six units: "Fleeing to Shanghai", "Life of Refugees", "Life in Shanghai Ghetto", "Neighborhood and Friendship", "A New Journey" and "Memorable Years".
In order to tell the stories of Shanghainese and the Jewish refugees who came to the city during the Second World War, the exhibition draws upon materials such as photos, videos and replicas from the Shanghai Jewish Refugees Museum.
On behalf of the refugees in Shanghai, 86-year-old Fred Antman recounted how he and his family fled from Berlin and came all the way to Shanghai to seek asylum.
Martine Brieger, an offspring of Jewish refugees, donated over 20 historic materials to the Shanghai Jewish Refugees Museum including some postcards and paintings from her grandfather.
Winning support from the Sydney Refugees Museum and the Confucius Institute in the University of Sydney, the "Jewish Refugees and Shanghai" Australian exhibition tour will last until May 20 and will travel to Mexico in August.
From 1933 to 1941, Shanghai became a refuge, accepting around 30,000 Jewish refugees fleeing the Holocaust in Europe. In the "Designated Area for Stateless Refugees" in the Tilanqiao area of Shanghai, about 20,000 Jewish refugees lived in harmony with local citizens, overcoming numerous difficulties together.