Temple fairs remain a firm favorite
(China Daily) Updated: 2015-02-16 07:42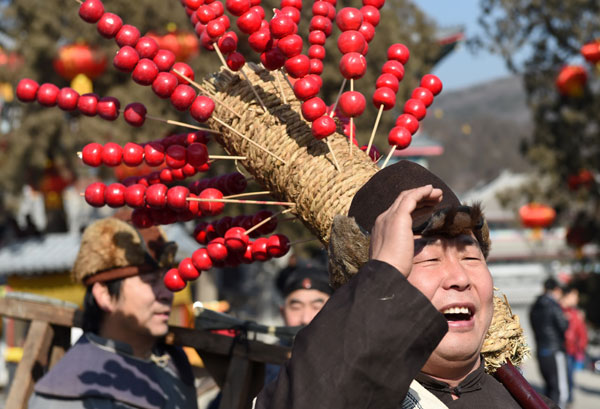 A performer practices crying out his wares as a street vendor at Badachu Park on Feb 9.[Photo by Li Jundong/China Daily]
Carnival spirit lights up Beijing during the holiday, as Su Zhou finds out. Su Zhou
Despite more and more young people turning their back on tradition, temple fairs remain a favorite event during Spring Festival.
Zhu Changdui, who works for the Postal Savings Bank of China and comes from Ankang, Shannxi province, said he remembers reading about Spring Festival in Beijing when he was young. He recalls reading of children with red cotton-padded jackets running out the hutong to join the temple fairs and see dragons dancing, martial arts performances and people selling traditional snacks.
"In recent years, Spring Festival has not been like the ones when I was little because of the rapid change in society, especially in my hometown," said the 28-year-old, who added that his relatives like to celebrate the festival by playing mahjong.
"However, I think Beijing has preserved a lot of the old tradition and blended it with the new trends."
This year will be the first time Zhu has stayed in Beijing during Spring Festival since he settled in the capital four years ago. He said he would like to capture as much of the traditional spirit as possible.
"I plan to visit temple fairs and I have a schedule for them. I think my camera will not have a few days off then," Zhu joked.