Royal Mint unveils coins for Chinese Lunar Year of Sheep
(Xinhua) Updated: 2015-02-02 09:42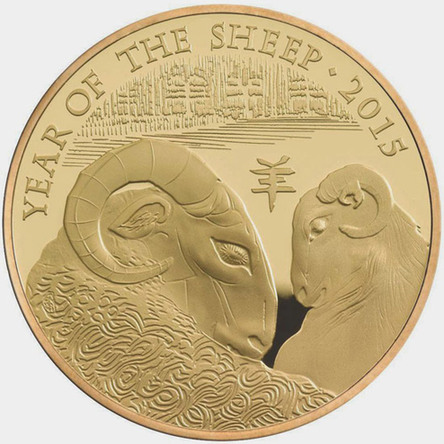 [file photo]
The Royal Mint on Monday issued a series of coins for the Chinese Lunar Year of Sheep, which is the second collection of its Chinese Zodiac coins, following the coins of the Year of Horse last year.
The new collection includes a tenth-ounce gold non-circulating coin, a one-ounce gold-plated proof coin, a one-ounce gold proof coin, and a five-ounce gold proof coin. In silver, there are the one-ounce silver proof coin and five-ounce silver proof coin.
Although the inspiration of the coins originated from ancient Chinese Zodiac, or Shengxiao, the sheep pattern on the coins were two domestic Swaledale sheep, with beautiful curled horns and swirls wool.
In the middle of the two face-to-face sitting sheep, there is a Chinese character "Sheep", and on the fringe, it is engraved "YEAR OF THE SHEEP.2015" in English. While the other side of the coins is the portrait of Queen Elizabeth II.
The number of those coins are limited. There are only 38 coins of the largest (65 mm in diameter) and also the most expensive five-ounce gold proof coin. With the denomination of 500 pounds, the recommended retail price for it will be 7,500 pounds each. And the two-pound one ounce silver proof coin has been produced 9,888 coins, with each of them to be sold at about 83 pounds.
"The sell of coins of Year of Horse was very successful, so we decided to recommission the same artist this year to join us to design the coin of Year of Sheep. Feedback of the sheep coins were fantastic. Last year was the first time that the UK to create such coins with Chinese symbols. It is hugely exciting for us. It is a history-making opportunity," said Fergus Feeney, program director.
"I wanted to put the Swaledale sheep in the coin as an emblem of Britain, but I also wanted to include something about Chinese heritage. And I was looking at the old symbol for the Chinese word for sheep, and to me, they very much looked like trees, so I thought to make a landscape out of the sheep in the background," said Wuon-Gean Ho, designer of the collection, who also designed the coins for the Year of Horse.
"I will be very happy if the Zodiac coins open up some interest for people who never heard about Chinese culture," she said, adding that she is also planning the coins for the Year of Monkey.
The coins of the Year of Sheep are now available for order on the website of the Royal Mint from Monday.
The Royal Mint has an unbroken history of minting British coinage dating back over 1,000 years. Owned by the Treasury, it is the only body that manufactures coins in Britain. It also mints and exports coins to other countries and produces various kinds of medals for different events, such as London Olympics.