Celebrities of the Year
(Chinaculture.org) Updated: 2015-01-30 14:26
The sheep (goat or ram) is among the animals that people like most. It is gentle and calm. Since ancient times, people have learned to use its fleece to make writing brushes and wool clothing and skin to keep warm. As most sheep are white, people describe delicate and precious white jade to be 'suet jade'. Suet is often made from sheep. White jade, in Chinese culture, represents something good. Thus it is close to the meaning of good things.
Basic Characteristics
People born in the Year of the Sheep are usually tender, polite, filial, clever, and kind-hearted. They have special sensitivity to art and beauty, faith in a certain religion and a special fondness for quiet living. They are wise, gentle and compassionate and can cope with business cautiously and circumspectly. In their daily lives, they try to be economical. Women born in this year are willing to take good care of others, but they should avoid pessimism and hesitation. They are kind in heart and commonly have symmetrical figures and features.
Fortune Foretelling in 2015
Career
Sheep may encounter some road blocks in their careers in 2015, especially in March, June, September and December. In these months, their emotions will be fluctuating, so it is likely that they will argue with colleagues. In comparison, their fortunes in their careers gets better in February, July and August. As long as they persist in working hard, they will gain much in the coming year. At any rate, they won't be getting a promotion in 2015.
Wealth
The financial fortunes of sheep people will be just so-so. They should reduce daily expenses, or it will be hard to make ends meet. It is not a good idea to lend money to others. Investments in stocks, bonds and real estate should be stopped. People who are living in a rental house should keep doing this. Don't buy a new house or move. Setting a fish tank in the west or north of the house may increase their fortune in wealth.
Relationships
Sheep people can easily lose their temper in 2015. As a result, couples and lovers may argue. They should communicate with each other to solve the problem to avoid breaking up. Also this is not a good year to get married. Single males may get involved in a relationship, and females will still expect to get back their former love.
Health
They should keep away from sharp tools and weapons such as knifes, swords, saws and scissors, because they may be easily injured this year. In daily life, they should play sports and avoid eating too much greasy food. Sheep born in 1943 and 1979 need to be careful when driving and playing sports, especially in June and December.
Study
Sheep students will hardly be able to concentrate on study this year. They should adjust their emotions to focus on study. Some students' study may be affected by family problems, so parents should pay attention to their behavior and try to be attentive to their children. Moreover, children may get some illness, which will influence their study.
Celebrities born in the year of the Sheep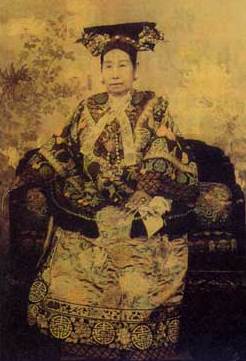 Ci Xi: Born on Nov 29, 1835. Empress Dowager Cixi was a powerful and charismatic woman who effectively controlled the Chinese government for 47 years, from 1861 to her death in 1908.[file photo