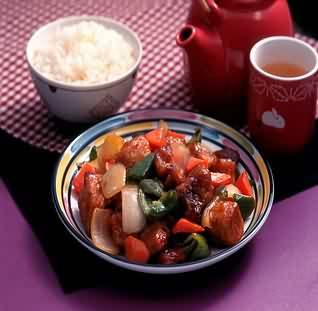 Chinese food [Photo/Xinhua]
To have authentic Chinese family meals in a Chinese restaurant has become the top item on the to-do-list for many Germans during the current Christmas season.
Near the Alexanderplatz in Berlin's downtown area sits the Chinese restaurant Ming Dynasty, one of nearly 500 Chinese restaurants in Berlin. It was almost packed and all the waiters were having their hands full at lunchtime on Thursday.
Many German people take such a traditional Chinese meal on Christmas Day as a grand family event on a yearly basis considering the relatively high prices.
"Our restaurant enjoys a rather high position in German people's eyes. They always choose to come to us for the celebration of important festivals," Chen Yuhua, the owner of Ming Dynasty restaurant said.
Fuqifeipian, sliced beef and ox tongue in chilli sauce, fish fillets in hot chili oil, twice-cooked pork are most popular among German diners.
However, the most frequently ordered dish on Christmas Day is Beijing roast duck.
According to German tradition, roasted goose is a must for each and every family on Christmas Eve. Now, things have changed. A roasted duck becomes a good alternative.
On this Christmas Eve, all the Beijing roast ducks were completely sold out.
The seats were overbooked long ahead of Christmas Day. German families with seniors and kids are seen everywhere in the restaurant enjoying Chinese food.
For many of them, celebrating the Christmas here has become a regular event every year.
"I like the roast duck here very much. Our family are regular customers. We came here last year and the year before last. The taste is really good," a Berlin diner said. "We have tried other Chinese restaurants in Berlin, Ming Dynasty Restaurant is one of the best."
According to Chen, Germans speak highly of traditional Chinese food culture. Having meals in Chinese restaurants has become an integral part of their daily life.