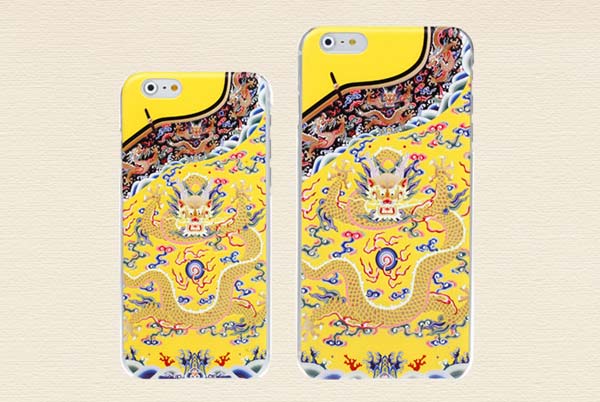 Mobile phone shells sold at the Taobao store of the Palace Museum. [Photo/Taobao store of the Palace Museum]
The cultural products developed by the Palace Museum will bring in revenues of 900 million yuan ($145.3 million) this year, which is 200 million yuan higher than its ticket proceeds, said Shan Jixian, curator of the Palace Museum.
According to the People's Daily, Shan Jixian recently said at a media consultation on the Palace Museum's cultural creative products, that up to August this year, the Palace Museum had designed and developed a total of 6,746 kinds of cultural products, and it will invest more in this field in the future.
This year, the museum never failed to catch people's eyes with its release of creative souvenirs, such as beaded earphones and a parasol shaped like an official's hat in its online shop, and the app A Day of the Emperor.
Shan Jixian said that the museum designs cute souvenirs to attract more visitors to take home Palace Museum culture. He also said that he hopes the creative products can deliver a concept of life long education, like the app A Day of the Emperor, which can teach both children and adults to learn about ancient culture.
The development of cultural products in the Palace Museum is not only driven by public demand, but also needs the support of advanced technology, Shan added.
According to museum staff, the newly developed app, "Emperor's Costume in the Qing Dynasty", will be online soon next year. The applied interactive technology allows users to virtually take off the emperor's clothes layer by layer and get to know the specific texture and information of the garment at one touch.
To celebrate the 90th anniversary of the founding of the Palace Museum next year, the museum will bring new surprises to the public. Shan revealed that, the Palace Museum will open four new districts, and 3 digital museums located inside the Forbidden City and in the Olympic Park will also open their doors.