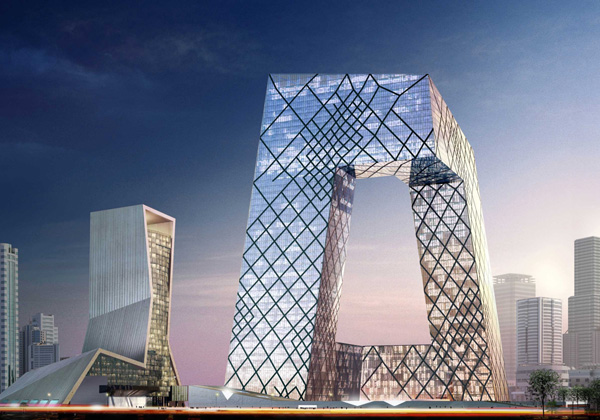 The new office tower of China's Central Television, dubbed by local residents as the "big pants" in Beijing. [Photo from web]
Beijing will set up building ordinances to govern the city's building size, style, color and materials, said Chen Gang, vice-mayor of the Chinese capital, according to a report by the Beijing Times.
Speaking to the emergence of several high-profile "weird buildings" in recent years, Chen said urban design will play a guiding role in the future, with the city specifying the standards of buildings in order to improve their design level.
At a meeting in Beijing in October, President Xi Jinping suggested that the city not allow "weird buildings" to be built in the future.
The next step is to pay attention to the design of public areas, providing habitable spaces for residents as well as creating a better cityscape, Chen said.
With the principle of partition management in urban design, Beijing will demonstrate its modern spirit without abandoning its local characteristics as a historical city, he added.
Beijing issued an announcement in 2000 to encourage its buildings to use gray as the primary hue for exteriors.
Insiders said that the government's move is good for the city since there have been an increasing number of buildings overemphasizing appearance and ignoring function, but they also raised concerns that the new rules might stifle the artistic imagination of architects.