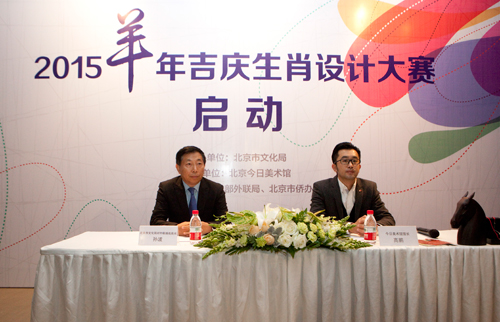 The launching ceremony of the Chinese zodiac design for the Year of the Sheep was held on Nov 19. [Photo/culture.ifeng.com]
As the Year of the Sheep is around the corner, the Beijing Municipal Bureau of Culture and Today Art Museum held a press conference to launch the Shengxiao, or Chinese zodiac, design for the Year of the Sheep on Nov 19. The design contest will be held from Nov 20 to Jan 20, 2015. It is expected to attract artists and amateurs from home and abroad to create a sheep mascot with regional flavor and a cultural connotation.
The contest has set up one first prize, three second prizes and five third prizes. All the winning entries will be announced on Feb 1, 2015 and promoted through major media at home and abroad. In addition, outstanding designs will be made into souvenirs for the activity 2015 Happy Chinese New Year.
The contest will help international communities to learn more about the Chinese zodiac and the culture of Chinese Spring Festival. It connects adorable animals with Chinese Spring Festival, turning China's traditional lunar New Year into a joyous animal party.
Thanks to the support from artists and amateurs worldwide, the Chinese zodiac design contest is expected to be an international platform for cultural exchanges.