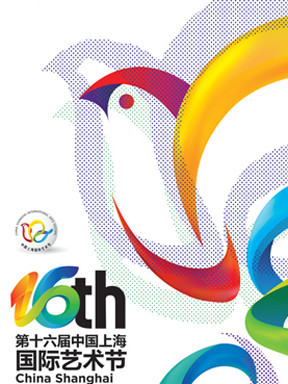 The poster of the 16th China Shanghai International Arts Festival. [Photo/epaper.ccdy.cn]
A performance Beethoven's Ninth Symphony marked the end of the one-month 16th China Shanghai International Festival on Nov 16. Cai Wu, minister of Culture, Yang Xiong, mayor of the Shanghai Municipality and representatives from home and abroad attended the closing ceremony.
The event provided 45 excellent programs from home and abroad, 105 performances and 13 exhibitions. Each performance boasted a nearly 90 per cent attendance rate. In addition, more than 3,000 public cultural activities were held, attracting over 4.5 million people.
The art performances, diverse in variety and artistic style, bespoke the openness and creativeness of the Shanghai International Arts Festival. Wang Juan, director of the Shanghai International Art Center, said that a mature art festival is inclusive. It not only includes classic works from different countries, but also encourages creative works. The forward-thinking performance is welcomed to promote the quality of art and direct cultural values.
This festival launched a program to support young artists since 2012. Many young people across the country came to Shanghai and took advantage of this festival to show their artistic gifts. "China is home to many art festivals but few can provide a platform and fund for young talents," said Luo Li, deputy director from an art institute in Guangzhou. This event helped many young artists, showing it is forward-looking.
To build an artistic city, every year the festival issues thousands of inexpensive tickets for 50 yuan each and holds over 3,000 public cultural activities.
"The Shanghai International Arts Festival annually brings in the top art works in the world. It aims to let more people enjoy the arts and make art integrate with the public," said Liu Wenguo, artistic general manager of the Shanghai International Art Festival.
| | |
| --- | --- |
| |   |
| 2014 APEC:China displays its culture and history  | APEC press center decorated with Chinese elements  |