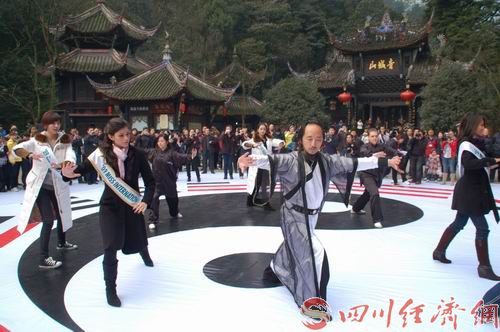 The Third Taoism Cultural Festival in Chengdu, Sichuan province, 2010. [Photo/sara.gov.cn]
The Fourth Taoism Cultural Festival will kick off on Sept 19 at Qingcheng Mountain in Dujiangyan city, Sichuan province.
Taoist masters and specialists from all over the world will gather at Qingcheng Mountain, one of the birthplaces of Taoism, to deliver speeches at a Taoism culture summit as well as to exchange ideas about the development of Taoism in this new age, the harmony between man and nature, and health care ideas in Taoism .
A grand ceremony will be held to pray for the prosperousness of China and a peaceful life for the Chinese people at the festival.
Over 100 masterpieces of traditional Chinese calligraphy andpaintingon Taoism and landscape paintings of Dujiangyan will be on display.
The event is being organized by the Chinese Taoist Association, Sichuan Provincial Taoist Association and the Chengdu Taoist Association. It is the third time Dujiangyan has hosted the festival.