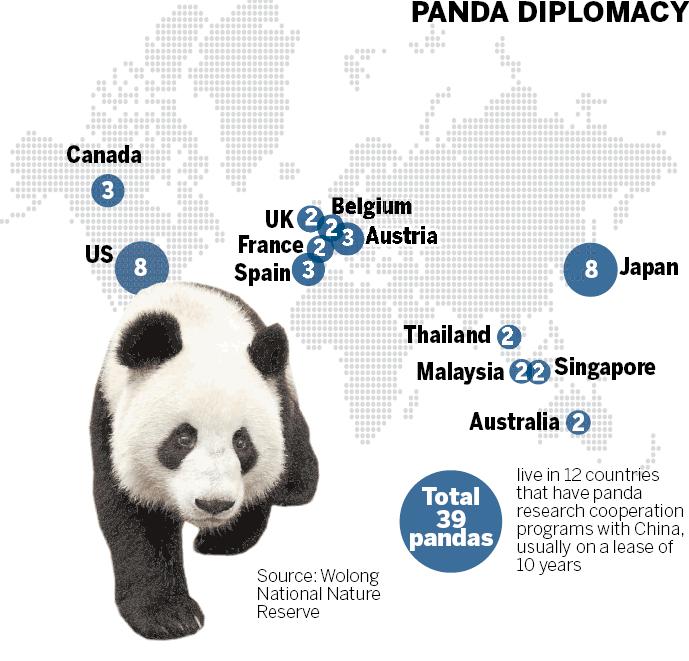 President Xi Jinping's two-day visit to South Korea has sparked media speculation that China will loan a pair of pandas to the country. [Special coverage]
During talks with his South Korean counterpart Park Geun-hye on Thursday, Xi said China upholds that relevant institutes of both sides should proceed with joint panda research to deepen the friendship of the two peoples.
As China is considering loaning the panda pair, a source at Wolong National Nature Reserve in Sichuan province said the pandas might come from the China Conservation and Research Center for the Giant Panda.
"As we did not receive a notice from the State Forestry Administration, we did not prepare (for the pandas' trip to South Korea),"said the source, speaking on condition of anonymity.
Wu Kongju, an expert at the Chengdu Research Base of Giant Panda Breeding in Sichuan, said pandas must undergo quarantine for a month before heading to a foreign country.
China introduced so-called panda diplomacy in the 1950s, presenting 23 pandas as diplomatic goodwill gifts to nine countries from 1957 to 1982.
It also launched a system in 1984 enabling overseas zoos to borrow pairs of Chinese pandas for up to 10 years.
China receives an annual fee of $1 million for each pair of loaned pandas. The State Forestry Administration has pledged to use 60 percent of the funds received for wild pandas' protection and 40 percent for research on pandas raised in captivity.
Thirty-nine pandas are loaned to zoos in Britain, Belgium, Austria, Spain, France, Canada, the United States, Japan, Thailand, Malaysia, Singapore and Australia under panda diplomacy.
"Twenty-four pandas at 11 zoos in nine countries are from bases in Wolong,"said Zhang Hemin, chief of the administrative bureau at Wolong whose bases are home to the world's largest captive panda population. The remainder are from the Chengdu Research Base of Giant Panda Breeding and from two zoos in Beijing and Chongqing.
On Feb 23, Hao Hao and Xing Hui, two 4-year-old pandas from Wolong's Dujiangyan base, arrived in Brussels to begin a 15-year stay in Belgium.
On May 21, Feng Yi and Fu Wa, two 8-year-old pandas from the same base, arrived in Kuala Lumpur to begin a 10-year stay in Malaysia.
We Recommend: