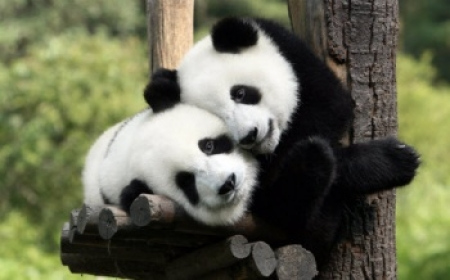 A file photo shows Fengyi and Fuwa, two giant pandas on loan to Malaysia from China. They will arrive in the Malaysia's Kuala Lumpur on May 21, 2014. [Photo/chinanews.com]

A pair of giant pandas from Chengdu, China which are borrowed via a Giant Panda International Conservation Cooperation Agreement Programme is scheduled to arrive in Malaysia on Wednesday.
Natural Resources and Environment Minister Datuk Seri G. Palanivel said the two giant pandas were scheduled to be shipped from China on Tuesday night and would arrive at Sepang the following day.
"The pair will then be taken to Zoo Negara and quarantined for a month at its enclosure which has been built at the zoo," he said.
He said Prime Minister Datuk Seri Najib Tun Razak would visit Zoo Negara on May 25 to see the pandas named Fu Wa (male) and Feng Yi (female).
The government of China postponed the shipment of the two pandas which was initially scheduled for April following the incident of the missing Malaysian Airlines MH370 flight in March.
According to Palanivel, the agreement between Malaysia and China was signed in 2012 and through it, Malaysia had the opportunity to carry out a conservation research on the giant panda.
He said the experience and expertise could be used to boost awareness on the effort to protect the animal and appreciating the uniqueness and importance of conserving wildlife and biodiversity.
We recommend: