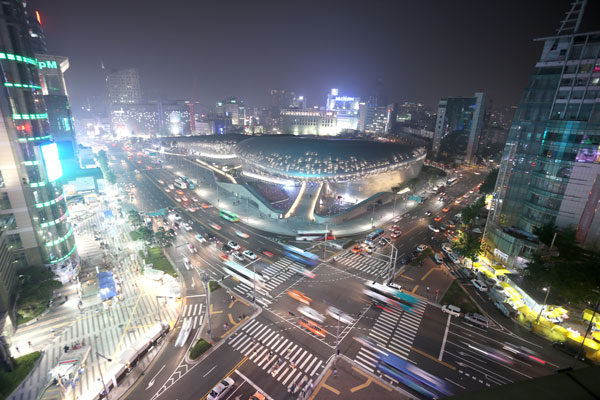 China replaced Japan as the largest source of tourists to South Korea in 2013.
As South Korean reality shows, dramas and pop music sweep Chinese television screens, tourism officials and agencies are looking to further tap their commercial potential.
China replaced Japan as the largest source of tourists to South Korea in 2013, with a record high of 4.32 million trips made by Chinese people, accounting for 35.5 percent of the country's inbound tourism market.
Among the most popular destinations of Chinese tourists is a display of theatrical sets used in the television series My Love from the Star at the neon-studded Dongdaemun Design Plaza.
As the TV series became wildly popular in China, a drama center in the plaza featuring the TV series welcomed 1,000 visitors daily, 90 percent of which were from China.
Choi Yong-hoon, a manager with the Tourism Policy Division, an authority under Seoul's metropolitan government, said he sees much bigger potential in tourism from China.
"It is one of South Korea's closest neighboring countries. It is natural that the two countries boost strong tourism relationships," he said.
As partof an effort to increase the number of tourists from China, Choi said the authority has implemented a program certifying quality tourism products in Seoul to further improve the tourist experience.
"Our primary purpose is to increase the number of returning tourists. If tourists are content with the experience we offer in their first trip, they will come back with their family or friends," he said.
The Seoul authority is also keenly aware of the role Korean pop culture could play in attracting more Chinese tourists. It has already hosted showcase events in China, including inBeijingandGuangzhou, to promote package tours, including those that offer a pop culture experience.
Choi said the authority is also concerned about the large number of low-quality travel packages in the market, most of which force tourists to purchase products at designated shops to make up for discounted prices.