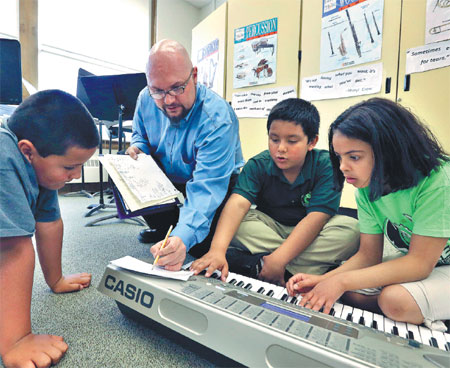 Conrad Kehn, lead artist facilitator for the Colorado Symphony's Very Young Composers program, helps students create music at Cole Elementary in Denver. The outreach program at urban schools is designed to inspire both children and professional musicians alike. Photos by Brennan Linsley / Associated Press
Declining audience numbers are a wake-up call to American arts institutions that the communities they serve are changing-and to stay in business they have to stay relevant.
Grammy award winning jazz singer Dianne Reeves says sharing songs and poetry helped ease racial tensions as she was growing up in the United States at a time when segregation was coming to an end.
Actor and graphic artist Archie Villeda spent his high school years immersed in theater, after seeing a production of a vaudeville-style satire featuring people who looked like him onstage.
Directors, conductors and curators in Denver, capital of the US state of Colorado, want to keep inspiring people like Reeves, who is African-American, and Villeda, whose parents were born in Mexico. But a city survey suggests that African-American and Hispanic residents not only aren't as likely as others to attend arts events, they are also more likely to describe the diversity in the arts offered as poor or fair.
Denver's concerns about the diversity of both the audiences and of the community that manages and presents the arts can be heard across the US, as ballet and opera companies, museums and orchestras face declining attendance, contributions and endowments.
Denver institutions are trying to reverse the decline by making art relevant and accessible to new audiences. That means taking the arts to where people are, and finding out what works to get people in-from new offerings, cheaper seats, even better transportation and parking.
The discussion in the Denver area comes 25 years after the debut of a special tax that funds arts as well as history, science and other cultural institutions. Communities across the country took note of voters' willingness-75 percent to 25 percent-to raise their own taxes for art.
Randy Cohen, a Washington-based arts policy expert, says Denver can and must build on the reputation for innovation it earned 25 years ago with the creation of the Scientific & Cultural Facilities District, known as SCFD.
"You just can't take for granted you're always going to have the support, you're always going to have the money," says Cohen, vice-president of research and policy at Americans for the Arts.
We Recommend: