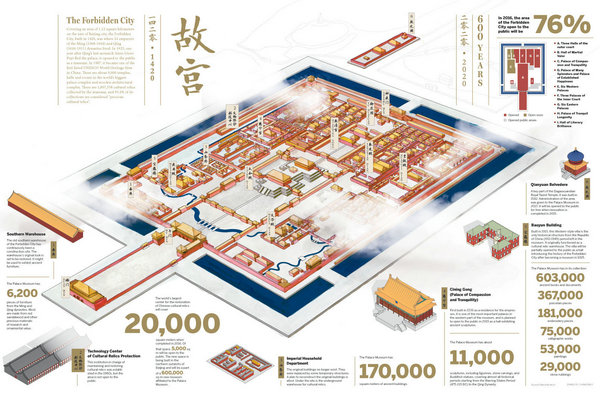 The director of the Palace Museum is working tirelessly to improve visitors' experiences at the World Heritage Site and protect its ancient treasures. He talks to Wang Kaihao about his passion for this unique symbol of China.
Shan Jixiang, 60, may have done something never achieved by any of the Forbidden City's former royal residents. After taking the position of director of the Palace Museum in 2012, he has been to all 9,000 temples, halls and rooms in the world's biggest palace complex and wooden architectural complex.
"I can barely take a single day off all year. I have to constantly walk around the palace to scrutinize every corner," a smiling Shan says. "Being the person in charge of such a museum with such complex needs, rich history and intense attention from around the world, you cannot expect to sleep well."
Covering an area of 1.12 square kilometers, the Forbidden City, built in 1420, was home to 24 emperors of the Ming (1368-1644) and Qing (1644-1911) dynasties. In 1925, one year after the last Qing monarch Aisin-Gioro Puyi was forced to leave the palace, it opened to the public as a museum. In 1987, it became one of China's first UNESCO World Heritage Sites.
"No other major museum in the world has equal significance to the layout of a city," Shan says. "I can declare to the world without any exaggeration: This is among the world's top five museums, together with the Louvre, the Metropolitan Museum of Art, the British Museum and the State Hermitage Museum."
He does not hesitate when asked how many cultural relics are kept by the museum - "1,807,558", he says with confidence. He also has accurate statistics on each of the 25 categories of relics, including 53,482 paintings, 75,031 pieces of calligraphy and 159,734 pieces of copper ware. "After a painstaking seven-year detailed survey winding up in 2011, we can finally stop estimating that we own about 1 million pieces," he says.
Shan says about 28,000 manuscripts of poems written by Emperor Qianlong (1711-1799) were recently found in the palace. They were discovered in an unmarked box.
"If someone found even one manuscript of Napoleon Bonaparte, it would probably stir up the whole of the Western world," he says. "So, who knows how many more astonishing secrets are hidden here?"
Cultural relics
The 22,000-square-meter underground warehouse in the Palace Museum was first built in the 1980s. It can hold more than 900,000 cultural relics, which Shan says is not sufficient for modern needs.
"It's unscientific to let different kinds of cultural relics be kept at the same temperature," he explains. "We need a more advanced infrastructure with the best equipment. Our national treasures deserve dignity to live better."
A new project to renovate the warehouse is underway, which will also expand an 8,000-sq-m area and create capacity to hold 400,000 more cultural relics. Many non-exhibited items are now stored separately in different rooms in areas of the museum that are closed to the public.
Shan says applying for a 400 million yuan ($64 million) allocation from the central government was not easy, but he is relieved he is now able to save more relics that had been left exposed in unsafe conditions. "Some large pieces, like sandalwood furniture, finally had chance to shake off the dirt and wait in a nice place to be restored and exhibited."
Restoration of the huge number of relics is made even more difficult due to the shortage of personnel. Shan proudly claims the museum has the world's top professionals restoring Chinese cultural relics, but fire has been banned from use to avoid any danger to the wooden constructions, which has slowed down the working process.
"Nevertheless, we cannot rush. Restoration is responsible for history. To prepare the best exhibits is our primary concern - not time."
A new museum, covering 60 hectares, affiliated to the Palace Museum is being built in the northwestern outskirts of Beijing to increase the space available to do restoration work. Shan says it will become the world's largest hub for Chinese cultural relics' restoration, and the work sites will be open to visitors. Part of that museum will likely be in operation as early as October.
Safety is also crucial when restoring cultural relics, hence avoiding fire and minimizing the risks posed by natural disasters. Theft is also a major concern.
Shan says armed police will take over the security operations of the museum in the future, and all exhibits in the museum will be equipped with microchips to spot any movement of position.
"All these situations have forced us to build one of the largest central surveillance systems for a museum," he says.
"And cultural relics also have the right to have a rest. That's why our museum now closes on Mondays."
We recommend: