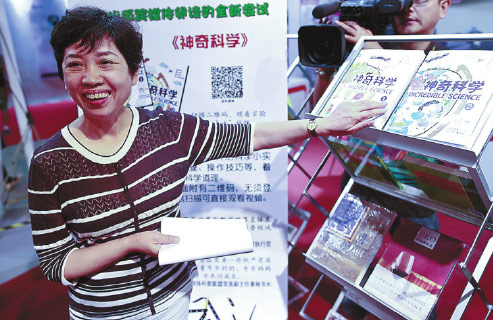 Zhong Zhixian, chairwoman of Beijing Publishing Group, introduces the book the Incredible Science at the expo.
A new interactive book combines new technology with traditional print media.
Incredible Science, published by Beijing Publishing Group, features Quick response, or QR codes, that lead readers to watch videos at the end of each chapter.
"It is traditional media's efforts to experiment and transform themselves in this age of new media," said Zhong Zhixian, chairwoman of the publishing group.
The book, which is the first multimedia paper book in the country, made its debut at the China Beijing International High-Tech Expo.
Targeted at children, the book is about 81 scientific experiments. Each chapter contains a detailed introduction to the experiment and an explanation. At the end readers can scan a QR code with WeChat to watch a video on their phone that shows every step of the experiment.
The videos were produced by the creative team behind the book.
"It is actually very lowcost. With the QR code and WeChat being so popular now, books in the future should adopt it. It can be very transformative and innovative," said Zhong.
The Vice-president of the Chinese Society For Science and Technology Journalism, Zhao Zhizhen, said that one day videos will become as normal as illustrations in a book.
"If traditional media just get stuck in their own capacity and limits, the distance between them and the huge number of mobile phone users will keep widening. Print media should have the initiative to change," he said.
In the preface of the book, Zhao wrote that new media allowed the book to offer children another learning opportunity and that it was an example of reacting to modern changes.
Dealing with the digital era is a hot topic in the publishing industry and there seems to be a battle between old and new, Zhong said.
"But Incredible Science proved that actually the two media can learn from each other and coexist," Zhong added.
Zhao said that there are other books that have QR codes linking to videos, but said that these normally took readers via websites rather than directly to the relevant clip.
"The book offers a shortcut. It hugely speeds up the process of getting what a user wants. This is probably what the IT industry is trying to provide, the user experience," he said.