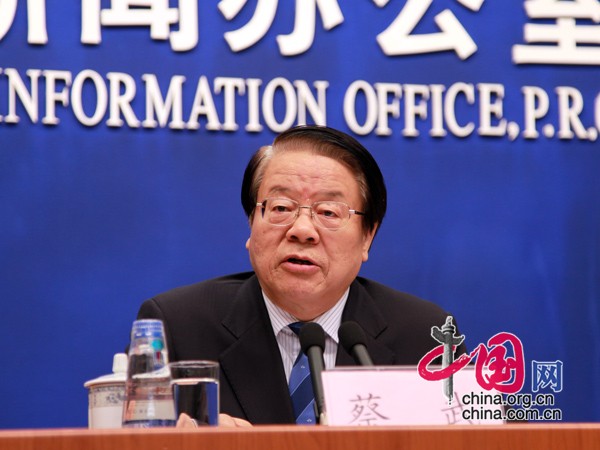 The head of China's cultural ministry Caiwu revealed a host of ambitious plans for 2014 at the press conference, Feb. 24, 2014. [photo/ china.org.cn]
The head of China's cultural ministry Cai Wu revealed China's plans to further reform and develop the cultural sector on Feb. 24, 2014. The press conference set forth a host of ambitious plans for 2014.
Cai Wu expressed the government's determination to build on the achievements of 2013 and ramp up the process of cultural reform in China. This includes speeding up the implementation of plans currently underway.
"2014 is a crucial time to implement further reforms to the cultural system," Cai said. "We need to improve the efficiency of cultural administration processes, encourage cultural enterprises to establish advanced forms of internal structure and improve the management of public libraries, museums and cultural centres."
The National Arts foundation was establish in late December last year and mainly focuses on supporting creative companies and individuals in the Chinese mainland. It is among the many efforts of China to encourage cultural creativity.
The government also plans to improve cultural services across the nation and make more free public cultural facilities available to the public.
Cultural relics in China face major threats in the face of urbanization, an issue China is also keen to address in 2014.
"We want to explore the best of Chinese culture and creatively revive it, to engage in cultural exchange with the rest of the world. This exchange involves trade and programs promoting mutual cultural understanding," Cai said.
The issue on the heavy taxes of cultural companies was raised at the press conference. Cai admitted the tax of 30 percent of the total income is a heavy burden and revealed plans for alleviation are being devised. The government also plans to support small to medium cultural firms and launch a series of benefits aimed at aiding budding firms.
"We want to encourage the financial sector to use new financial tools and provide support for the unique need of cultural industries," Cai said.
The National Art Fund is managed by local officials and is designed to provide support for creative individuals and companies. The initiative will be supervised by a committee of experts and will take three months for a total of 2 billion RMB to be deployed.
Analysts believe that 2014 may see China's biggest shift yet in cultural structure if the measures announced are faithfully implemented.
we recommend: