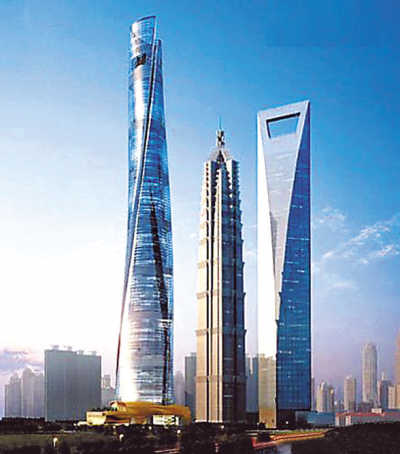 Shanghai's new landmark: China's tallest building. (Photo/People's Daily Overseas Edition)
Since China entered the modern era, a modernist trend in architecture has swept the country. The design of modern Chinese buildings is deeply influenced by western styles; traditional Chinese architecture has generally disappeared from view and some inappropriate elements of western construction are taking hold in China's contemporary architecture.
Some modern buildings in China have won favor for their structure and their functional suitability, but others are famous for their strange appearance or their radical style. An example is the twisted skyscraper in Xiamen which is the headquarters of the Ruihua high-tech R&D Center. 99.7m tall, the building has been described as "a giant fried dough twist"- a Chinese snack. Someone joked that "the building makes my stomach ache."
Another example is the Shanghai Tower. 632 meters high, it is China's tallest and the world's second-tallest building. Together with the Shanghai World Financial Center and the Jin Mao Tower, the three buildings have been dubbed "the three-piece kitchen set" - a bottle opener, a cooking syringe and an egg whisk.
Every day we see more and more monster high-rise buildings of dubious appearance springing up over our cities, generating a heated debate among experts and media. Some are beginning to form the view that it is time to start asking questions about western designers' occupation of Chinese architecture, about whether these image-focused skyscrapers are good for our cities, and whether western features are being properly utilized.
We recommend: