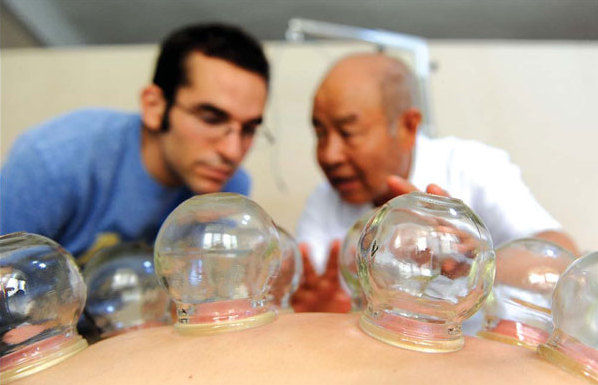 Last summer, Bryan Anker, a college student from the United States, studied traditional Chinese medicine under the discipline of senior TCM doctor Du Chunqing, who practices in Linfen, Shanxi province. Photos by Yan Ruipeng / Xinhua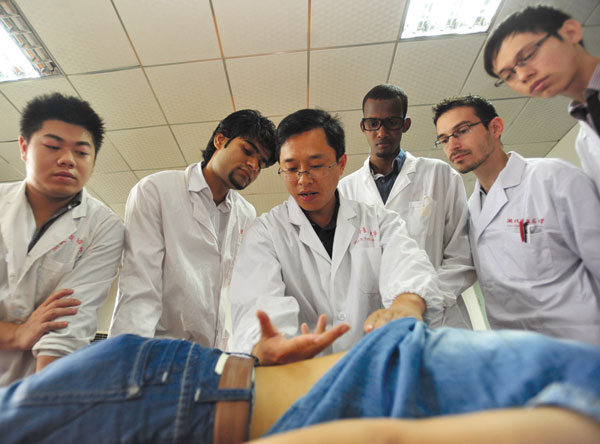 More than 400 foreign students are studying at the Hubei University of Chinese Medicine. Xiao YiJiu / Xinhua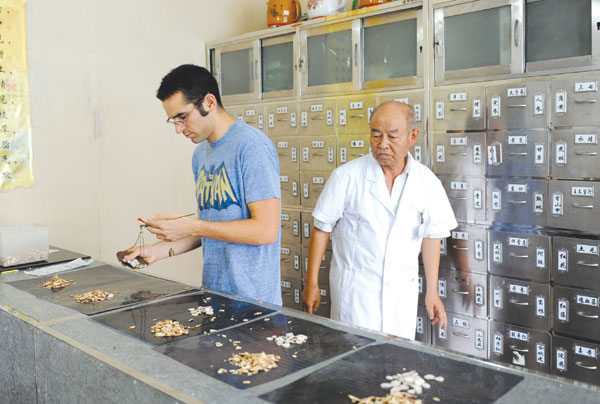 Bryan Anker had spent three years learning Chinese before he came to Linfen.
Traditional Chinese medicine, which has been practiced for thousands of years, is attracting new fans from abroad. Liu Zhihua finds out more.
Earlier this year, Dongzhimen Hospital, a TCM hospital affiliated to Beijing University of Chinese Medicine, opened its international clinic in the heart of Beijing, to provide high-end health services to patients, using traditional Chinese medicine treatments and practices.
The clinic's target customers are expatriates. TCM, a practice that has been around for thousands of years, is finding new fans. Increasing numbers of foreigners who come to China to travel, work or live, have tried TCM and are convinced of its benefits.
Brigitte Winklehner, born in Austria, became a firm believer in TCM through her personal experiences.
"TCM is very useful and effective. It has helped me a lot in the past decade when I had several major operations," says the president of Eurasia-Pacific Uninet, a network which aims to establish contacts and scientific partnerships between Austrian universities and research institutions, and those in Asia and the Pacific region.
Because of her job, Winklehner has been spending a few months in China every year ever since 1995.
In 2003, she had hip replacement surgery in Austria, which led to severe pain and numbness in her left calf, causing difficulties whenever she walked.
The hospital suggested another operation. She refused and requested acupuncture, which was administered by a Greek doctor.
The acupuncture relieved her pain, and as soon as she could walk on crutches, Winklehner flew to Shanghai for further acupuncture treatment as she believed doctors there would be more capable than those from the West.
Her belief was proven correct, because after a few acupuncture treatments in Shanghai, she could walk with minimal pain.
Today, she occasionally visits TCM doctors to ask for herb supplements.
"The herbs the TCM doctors prescribe for me are also very successful. They are good for my general body balance," Winklehner says.
TCM is indeed about balance. TCM believes the human body is an organic and systematic whole, and any illness is a reflection of the body's state of imbalance, which affects the harmony of organs.
The key is to keep a balance within the body and between the body and mind, and to achieve harmony with surroundings.
For many foreigners, that sounds abstract, but not for those who trust TCM.
"The philosophy of TCM is hard for foreigners to understand, because they have a totally different cultural background from ours," says Han Feng, a marketing manager with Beijing's Oriental Inter-Cultural Medical, a TCM clinic targeted at foreign clients.
"But as more foreigners come to China, they become open-minded toward TCM, and are willing to know more about it."
The clinic offers a variety of TCM treatments, including herbs, acupuncture, massage and cupping, with doctors who speak Mandarin, English and Japanese.
Most of their clients are expats from Japan, Europe and the United States, and the clinic has seen an obvious increase of customers in the past years.
"Our patients are very open to learn about TCM when they see our doctors," Han says.
"I think it is because they are interested in natural therapy, and TCM is all about nature and balance."
The clinic also provides training sessions for foreigners who are interested in TCM.
Australian Alex Tan has been living and working in China since 2005.
Holding a degree from Australia in both engineering and TCM, he runs Straight Bamboo TCM clinic and a spa in Beijing's hip Sanlitun area, and a TCM practice at The Hutong, an expat-run Chinese cultural center in the heart of Beijing.
"The key focus of TCM is about learning how we can live in accordance with nature to avoid illness and disease," he says.
Li Xiaoli, director of international student affairs at the Beijing University of Chinese Medicine, says as TCM gains more acceptance outside China, the university has seen an increase in international students.
Currently, the university has more than 1,000 international students from all over the world, Li says.
Malaysian Tou Yingxiang is one of them.
He has studied TCM for five years in China, and will continue to study for three more years.
He likes TCM because it is a distinguished practice that not only treats health conditions, but also emphasizes the body's ability to heal, and provides a profound preventive lifestyle perspective to health maintenance.
Tou says more of his friends have become interested in TCM, especially those with Chinese origins, and he hopes to get a position in a Chinese public hospital after he graduates, because he wants to learn more about TCM from top experts there.
Most international students in the university opt to go home to practice TCM, according to Huang Yunyu, deputy director with the International Clinic of Dongzhimen Hospital, which is affiliated to the university.
As for Brigitte Winklehner, the Austrian, she has been bringing together scientists in China and Austria to research TCM mechanisms and efficiency, to promote the ancient practice using new scientific evidence.
Contact the writer at liuzhihua@chinadaily.com.cn.
We recommend: