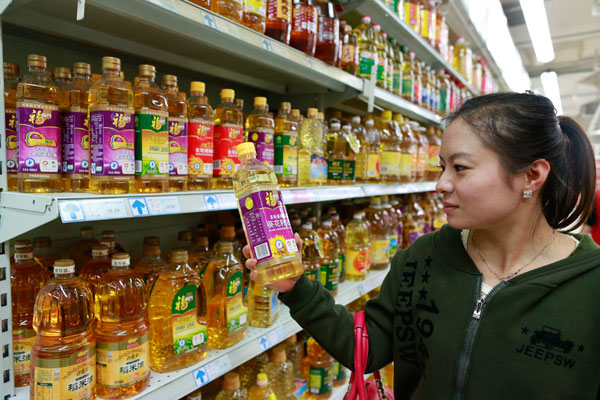 A consumer chooses oil made from non-genetically modified sunflower seeds in a supermarket in Beijing on Tuesday. Feng Yongbin / China Daily
Public caught up in argument over safety of genetically modified products, reportZhang LeiandZhong Nanin Beijing.
More than 300 people gathered to enjoy a bowl of porridge made from genetically modified food on Saturday, an attempt to quell public fears about the safety of the product.
The first China Golden Rice Tasting Event was held at Huazhong Agricultural University in Wuhan, Hubei province, sparking another round in the nationwide debate about the safety of GM crops, often called "Frankenfood" by opponents.
Similar events have been held in more than 28 cities since May, the university said.
Both the pro and anti camps have posted conflicting comments on the Internet, with each providing evidence to back up their beliefs, but the exchanges are becoming increasingly bitter.
Jiang Tao, a senior engineer at the Center for Agricultural Resources Research at the Chinese Academy of Sciences, who is in favor of GM foods, was scathing about what he called "amateurs" spreading rumors.
"Just look at the people who are opposed to GM foods; can you find anyone from a related field in the scientific community?" he asked. Jiang also accused the anti-GM lobby of repeatedly using outdated or inaccurate data to support an "incorrect" stance.
Chen Yunfa, an independent researcher into the Yangtze River Delta economy, recently wrote a commentary on the Internet news portal Eastday in which he denounced the actions of the 61 scientists, saying they had gone "beyond their proper duty". He suggested that large multinational corporations might be behind the letter and similar incidents, prompted by a desire to freeze China's patent hybrid rice technology out of the market.
To support his contentions, Chen said that GM rice, first produced by scientists in the US, still hasn't gained official approval from the US government. However, the US authorities have actually granted licenses to six varieties of GM rice. The commercial planting of two varieties - anti-herbicide (BAR) transgenic rice LL RICE 06 and LL RICE 62 - produced by the French pharmaceutical company Sanofi-Aventis, was approved in 1999 and a license for cultivation for edible use was granted in 2000.
We recommend: