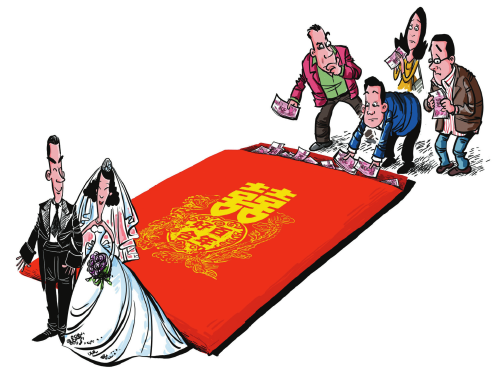 PANG LI/CHINA DAILY
A crucial part of a modern Chinese wedding obliges guests to hand over money.
The National Day golden week is a golden time for weddings. Chinese often rely on a special calendar to find out the auspicious days for certain ceremonies such as weddings, but a seven-day holiday has got to be doubly propitious when everyone has plenty of spare time and the weather is at its seasonable best. I, for one, ran into a dozen new couples taking photos for wedding albums on just one trip to a park.
However, if you receive a dozen wedding invitations, you may not count your blessings. Instead, you need to count the bills in your wallet. You may have to shell out as much as a month's salary just to be in attendance. According to one media survey, up to 80 percent of Beijing residents were invited to at least one wedding during the recent golden week, and they all had to give a red envelope containing some cash in lieu of a wedding present.
No wonder people are complaining about receiving wedding invitations, which are jokingly called "red bombs".
I did a little research on the amount in a typical red envelope. For a casual friend or regular colleague, it is 100-200 yuan ($16-$32); for someone closer, it can edge up to 300-500 yuan; and for a "best buddy", it should be no less than 600 yuan. Of course, it can vary by region and social strata. Among those surveyed, 45 percent gave 500 yuan or less; 32 percent reported cash gifts of 500-1,000 yuan, and 11 percent fell into the generous group of 2,000 yuan or more.

RAYMOND ZHOU
You may wonder why someone ringing wedding bells would want to invite "regular friends" who, without the embellishment in addressing, are probably only casual acquaintances. The trick is in the economics. The cost of wining and dining a wedding guest is usually lower, sometimes much lower, than the amount of gift money received. So, the larger the wedding banquet, the more profitable it is for the ones who throw it. On top of it, you gain bragging rights and vanity, for which ordinary people-those not in the public spotlight-do not have many chances.
According to media reports, Ma Linxiang, a village chief in Beijing, gave a party with 250 tables for the banquet alone, lasting three days, from Oct 4 to Oct 6, for his son's wedding. He even rented the banquet hall of the National Conference Center. The price tag is said to have been 1.6 million yuan, including 700,000 yuan for live entertainment with celebrity participants.
Strangely, what was in the red envelopes ranged from 500 yuan to 2,000 yuan, enough to cover the catering, but not the whole event. Well, you cannot compete with the rich and powerful for this kind of thing. They have their own arithmetic, but they certainly blaze new trails in expanding the parameters for an enviable lifestyle.