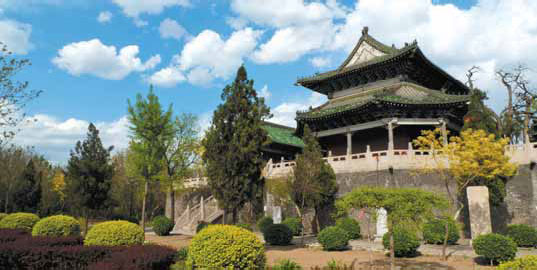 With its ancient architecture and natural beauty, Fuxi Temple presents scenes from the Neolithic period 7,800 years ago.
Relying on its geographic advantages and rich historical resources, Shijiazhuang, capital of Hebei province, will see a boom in its tourism industry in the next few years, local officials predict.
A vital regional hub in North China, Shijiazhuang has an advanced system of roads and railways extending to other parts of the country.
"It is also a cultural center with lots of historical sites," said one local official.
Among all the attractions, Zhaoxian county's Zhaozhou Bridge is among the best known by tourists from China and abroad. It is the oldest stone-arch bridge in the world, dating back to the year 595 in the Sui Dynasty (AD 581-618).
Another is the Fuxi Temple, which is representative of the lifestyle of the Neolithic period and features relics created more than 7,800 years ago.
Zhengding, a county near Shijiazhuang, is famed for its long and glorious history.
The county was originally built in 770 BC as the Xianyu State and grew into a populous county thereafter.
Some 1,400 years ago, Zhengding was regarded as the political, military, economic and cultural center of North China.
The county is also renowned for its splendid culture, containing 38 ancient buildings that date back to the Sui Dynasty (AD 581-618) and the Tang Dynasty (AD 618-907) more than 1,000 years ago.
The lasting imprint of Buddhist culture embodied by its multitude of ancient temples makes it one of the most important Buddhist cities in China.

Tuoliang Mountain is a famous tourist resort in Shijiazhuang.
In addition, the Xibaipo- the fifth listed 5A resort in Hebei- is also a popular destination among sightseers interested in so-called Red tourism.
It was the site of the Communist Party of China's last headquarters in a rural area before it moved to Beijing.
In addition to the cultural attractions, Shijiazhuang is also home to a wealth of natural scenery.
It has two national geological parks-Zhangshiyan and Tuoliang - providing good natural environment for visitors.
The city has three national key scenic spots, 25 scenic spots ranked higher than the national 4A level, and 21 4A scenic spots.
We recommend: