Updated: 2013-05-11 07:57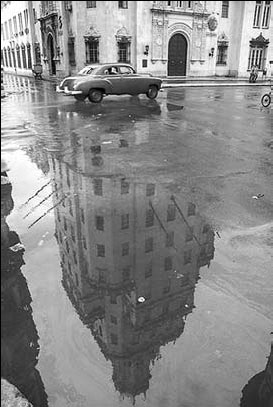 The exhibition Fusion features De Bajo by Arien Chang from Cuba at the new Latin American and Caribbean Center in Beijing. Provided to China Daily
With a festive opening scheduled on Saturday, organizers of the new Latin American and Caribbean Center in Beijing hope to create an arts and media hub that attracts a big mix of cultures from a hemisphere away.
"Last year more than 80 million Chinese tourists went abroad, but only a small percentage of them went to Latin America," says James Wu, LACC president and luxury travel promoter.
"Chinese have a clear idea of France," he says. "But ask about Latin America? It's a mystery. Some people will just look blank, some will think of cigars."
The new center, with about two dozen embassy and chamber of commerce partners from the region, plans to change that - starting with an 11-artist exhibition called Fusion with works by Patricia Calvo of Mexico, Leonardo Ceballos and Maria Arizala (Ecuador), Danilo Oyarce (Peru), Arien Chang (Cuba), Nelson Jovandaric (Venezuela), Hebelyn Valencia (Colombia and Ecuador), Fabio Mesa (Colombia) and three natives of the Dominican Republic: Iris Viviana, Dionicio Blanco and Miguel Gerardino.
All of the artists have ties of some sort to China. Six of the artists will have solo exhibitions later, including Mexico's Calvo in June and Cuba's Chang in September, which will "display the consequences of Asian ancestry on this new generation, as well as its influence on our contemporary culture", says the center's Mario Ruiz.
Helping Latin countries present their varied cultures in shared exhibition and meeting spaces won't be limited to art shows. The center's goal is to create a free resource for Chinese about Latin and Caribbean countries, and a "home away from home" for expatriates from the region who want to hold social events or learn Chinese - or even need help getting a visa.
Wu, whose UULuxe high-end travel group has 16 branches around China, made a big investment in the center even though he'd never seen Latin America himself until he visited the Dominican Republic last year.
But the region's potential and the appeal of the various cultures is so great, he says, that he's already planning similar centers in Chengdu, Shanghai, Guangzhou and Shenyang. And countries like Peru and Venezuela don't seem so far away to a man who is brokering prospective trips to the moon with Virgin entrepreneur Richard Branson.
Center organizers say they are not trying to compete with the Cervantes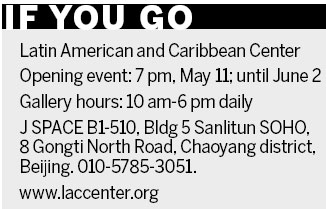 Institute, the Spanish government agency responsible for promoting the study and the teaching of Spanish language and culture, nor with government groups and embassies. But many Latin countries have their own cultures and few resources to promote them, and the center will try to give them collective oomph.
"We want to be a platform for culture, business and luxury travel," says Wu. "And that includes some cooperative exhibitions that should be interesting to everyone."
michaelpeters@chinadaily.com.cn