"Graduates can either leave to have their own studios, or they can work for me and get a salary. They are free." Luobu said.
It seems to be a good learning opportunity, but Luobu also admits that society is changing rapidly and young people can find an easier job and make more money rather than sitting for hours and days drawing the lines, patterns and motifs of Tang-ga. For a master like Luobu, he once spent over a year to complete a painting of 3 meters long and 1.7 meters wide. "Everything is handmade and it is a big challenge for my patience," Luobu said.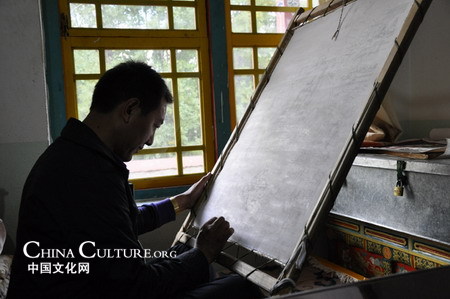 Luobu Sida works on a Thang-ga in Lhasa,Tibet, September 11, 2009. [Chinadaily.com.cn/Uking Sun]
Tibetans enjoy the tradition of drinking barley wine, but Luobu is the few who has chosen to abstain from drinking at all for fear of damaging his mind. He explained, "You have to keep your hand stable, hold your breath, release your strength smoothly and evenly, so the drawing can be perfect. The drinking may affect the nerves."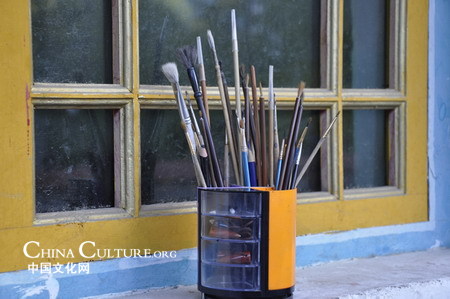 The paintbrushes of Luobu Sida. [Chinadaily.com.cn/Uking Sun]
The teaching and renovation job in thePotalaPalacehas taken a lot of his time. "I certainly can make more money if I focus on the orders of Thang-ga from all over the world, but what I want most is to keep this traditional art alive and enable more people to learn this. I don't work for money," Luobu said. He also said his plan for the future is to open a large school and recruit more students.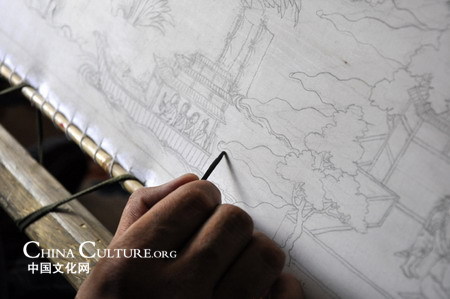 Luobu Sida works on a Thang-ga in Lhasa,Tibet, September 11, 2009. [Chinadaily.com.cn/Uking Sun]