To open school and teach the traditional techniques
Luobu spends the rest of his time teaching students of Tang-ga in his home-like school. The idea of opening a Tang-ga school originated in 2001 when he realized that the traditional method, passing usually from the parents to the children, was not enough to keep alive this cultural heritage during the expansion of commercialism. The market inLhasais overwhelmed with machine-made Tang-ga exported fromNepaland other regions, even though those products use chemical materials and may lose color after several years, Luobu said. He worries that with large-scale manufacturing the cultural and religions practices have been seriously weakened. The school, a two story building, was rented from the monastery on the Chakpori Hill, which is on the right side of thePotalaPalace. Although Luobu has to pay around 4,500 yuan per month for the rent, his courses have been free and open to anyone interested. There's also a room specifically for students to cook for themselves.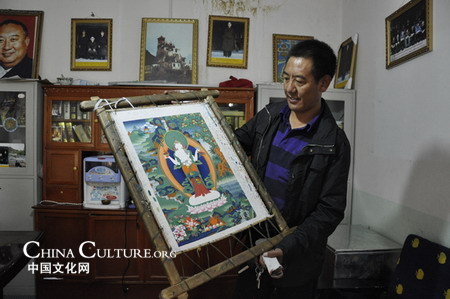 Luobu Sida displays a finished Thang-ga in Luobu Sida's Thang-ga school in Lhasa, Tibet, September 11, 2009.[Chinadaily.com.cn/ Uking Sun]
By 2009 Luobu had educated around 100 students. Sixty of those can independently master all procedures, from pigments preparation, to sketching, coloring, application of god powder, and mounting.
"It's a very hard process. People usually need six to seven years to learn all the procedures, and you also need to spend hours in the room, so some students quit in the middle," Luobu said. Most of the students are coming from rural areas inTibetand some are slightly disabled. Luobu hopes students not only can learn the traditional techniques of making Tang-ga but also hopes they can make a living from the work.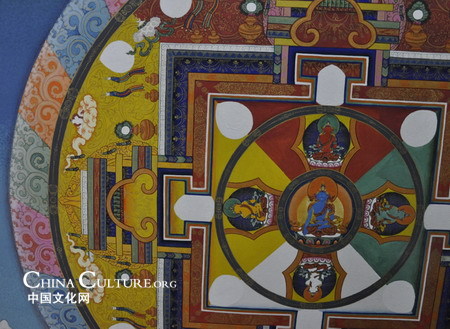 A close-up of a finished Thang-ga in Luobu Sida's Thang-ga school in Lhasa, Tibet, September 11, 2009.[Chinadaily.com.cn/Uking Sun]