Hilton, Langham Palace and King Wing, three five-star hotels under the administration of Beijing Capital International Airport as well as other partner hotels located all over the city, can offer quick and convenient accommodation services for 72 hours visa-free transit passengers.
Hilton Beijing Capital Airport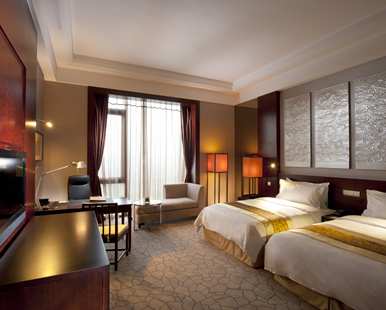 One executive room at the hotel
The Hilton Beijing Capital Airport hotel is situated in the perfect location, just one minute by shuttle bus from the airport and the Beijing airport rail link. The hotel features some of the largest hotel rooms in Beijing, with 322 guest rooms situated from the 3rd to 6th floor featuring contemporary Oriental decor, soundproof floor-to-ceiling windows and high-speed internet access. Upgrade to an Executive Room for complimentary access to a private meeting room and the Executive Lounge, or choose a Duplex Suite, spread over 2 floors, for extra space.
This convenient hotel offers a range of high class restaurants, ensuring you have choice of quality food during your stay. Book a meeting with the excellent event facilities arranged on the 1st and 2nd floor, with 21 function rooms combined with Tang Song Grand Ballroom and Qin Han function room. In total there is 3,100 sqm of versatile space for you to use. There is also an array of onsite leisure facilities including an indoor swimming pool, a fully-equipped health club and a magnificent spa that ensures all guests have the option to fully relax during their stay.
Highlights:
Situated just 1 minute from the airport and Beijing Airport Rail Link
Complimentary 24-hour shuttle bus from the hotel to airport terminals 2 and 3
Within 40 minutes of tourist attractions including the Great Wall and the Forbidden City
Complimentary WiFi in public areas
Indoor swimming pool and spa
Local and international cuisine from 4 stylish restaurants, offering 32 private dining rooms
What to do around there?

Within the grounds of the Hilton Beijing Capital Airport hotel, there is a modern fitness room and a high class spa, perfect for unwinding after a long journey. The hotel is set in a convenient location, within 40 minutes of major tourist attractions including the Great Wall and the Forbidden City. This Beijing hotel is just ten minutes from the New China International Exhibition Center, and are within seconds of transport links to the heart of Beijing. The knowledgeable Hilton Beijing Capital Airport staff will be delighted to help your visit to Beijing.
How to get there?
Terminal 3, 1 SanJing Road,  Beijing Capital Inter,  100621,  China
Tel: 86-10-6458 8888
Fax: 86-10-6458 8889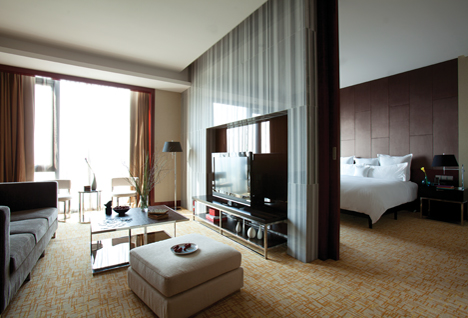 One suite at the hotel
Step off your plane at Beijing's Capital Airport, and within minutes Langham Place will take you from feeling frazzled to totally fab.
Are you after a stylish room or spacious suite? We've got 372 of them.
Looking for a fun dining experience? Be tempted by our five modern restaurants and bars.
Want easy access to Beijing's key spots? We're mere minutes from the Capital Airport, New China International Exhibition Centre and the city hub, and only 45 minutes from the must-see Forbidden City and Tian'anmen Square.
Wanting to stay wired, in the loop and online? Our tech-tastic facilities keep you connected around the clock.
Once you touch down, put your feet up. You're only minutes from Beijing's vibrant new destination hotel.
And when you bid us a fond farewell, your departure gate is as close as next door.
How to get there?
No. 1 Er Jing Road Terminal 3, Capital International Airport Beijing, China 100621
Tel: (+86) 10 6457 5555
Email: lpbca.info@langhamhotels.com
King Wing Hot Spring International Hotel

One executive room at the hotel
For English comments, please click here
How to get there?
No.17 Dongsanhuan South Road, Chaoyang District, Beijing 100021, China
Tel: 010-67668866
More information about hotels in Beijing, please click here;