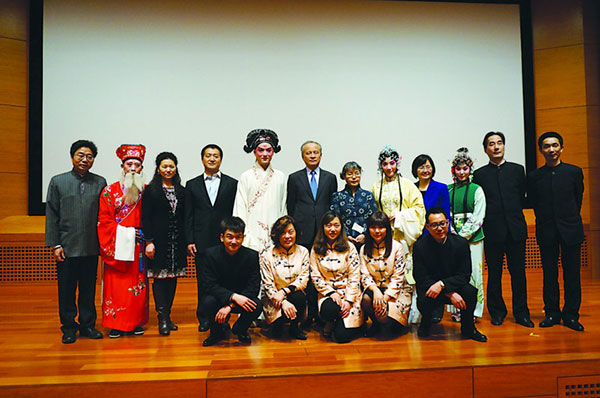 President Xi Jinping made a speech at the art and literature symposium on Oct 15. He underscored that artists should create more people-oriented art works. Cai Shaohua, head of the Suzhou Kunqu Opera Theatre, gave an interview to CCTV. He said that Kun Opera is a symbol of traditional culture and its inheritance and development will be guided by what the president said. It will respond to the trend of the times to exchange with countries worldwide and learn from excellent art works.
In recent years, the Suzhou Kunqu Opera Theatre has launched a series of classic operas integrated with modern aesthetic appreciation, including The Peony Pavilion, The Palace of Long Life, The Jade Hairpin and Romance of the West Chamber. Meanwhile, the theater makes efforts to advertise Kun opera and seizes every opportunity to take the opera abroad to showcase its fine traditional culture.

In March 2014, to celebrate the 35th anniversary of the US-China Sister Cities, the Suzhou Kunqu Opera Theatre was invited to give performances in United States. It won praise from people from all walks of life. On March 27, at the World Bank's headquarters, the troupe offered a one-hour-performance that included folk music and episodes from The Peony Pavilion.
At the US-China Sister Cities ceremony, 34 cities in China and the United States won the US-China Sister Award, including Suzhou and its sister city, Portland. The Suzhou Theatre was invited as China's representative to attend the award ceremony held by the International Chinese Network Inc. (ICN). After that, cultural exchange centers from several American states sent invitations to the theater to promote Chinese fine art and share Suzhou culture.
Recently, Suzhou has been committed to inheriting and promoting classic Kun opera. Kun opera has been taken to several domestic and foreign sites. For example it was staged in Taiwan province in 2009. It went to Hong Kong to celebrate the 38th Hong Kong Art Festival. In 2011, it went to Japan to celebrate the 30th anniversary of Sister City friendship. In 2012, the Kun opera troupe was invited to the University of Michigan to give lectures and performances. During the 2013 spring festival, The Peony Pavilion made its debut in Paris and was performed seven times. It was a successful attempt to promote Kun opera abroad and transfer it into a commercial performance by using its unique artistic charm.