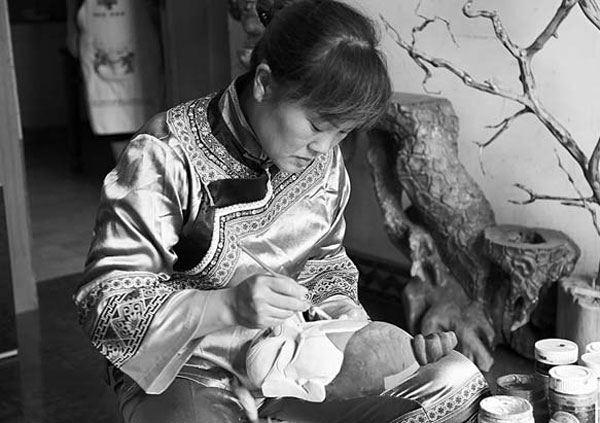 Yang Yunxia makes a Nuo mask. Photos Provided to China Daily
Local villagers know her as a carving artisan and almost all the neighboring Nuo performers buy their masks from her.
"Making Nuo masks is a time-consuming process and earns little," said Yang.
The dedicated craftswoman carves during the night as she has to make a living by doing extra work as bus conductor during the daytime.
"We have fixed customers, but our output was limited," she said.
Yang said she has to turn down orders as she can only produce one mask a day, so her annual income is limited to 50,000 yuan.
Compared to other local residents, Yang's income exceeds the average level nearly 10 times, but she said she was more concerned about developing her craft and passing it on to future generations.
"My father broke the family traditions by passing the craft on me, a female, so why can't I do something more?" she said.
Yang said the craft was the nation's and the world's, not just her family's heritage so she is willing to teach anyone who wants to learn.
Yang's husband said even in Dejiang, the hometown of Nuo, people have started to use carving machines, which help propel daily output to several thousand masks.
"We insist on hand carving although carving machines can be more efficient," he said. "Carving machine products are all in the same key, neither exquisite nor vivid."
Yang said she would only consider using carving machines to make fingertip-sized masks.
She said it would take half a day to finish handmade small masks, which sell for 80 yuan, but more than a thousand masks could be made in a day via mechanized production and they could be sold for 10 yuan each.
"On one hand, we insist on hand carving, on the other hand, we have to think about making a profit," Yang said.
The craftswoman and her husband plan to recruit a batch of trainees to inherit and develop the traditional craft for centuries to come.
She said they were waiting for investors to lay out mechanized production to tap into and expand the tourist commodity market.
"We keep the door open for cooperation," Yang said.
We Recommend: