China, with a history spanning thousands of years, has an abundance of cultural heritage relics. As a result, it also has a large number of lost relics due to its previous wars, looting, stealing and other illegal activities.
UNESCO estimates that at least 17 million Chinese cultural relics are scattered around the globe, with 1 million of them art objects in 200 different museums in 47 countries, not to mention private collections.
The lost treasures are not only gorgeous artworks, but also symbols of the country's wisdom and traditions. The absence of the relics continues to traumatize China to this day.
As China continues its rapid development, more treasures are now returning to the country in a variety of ways, through legal recourse, purchases and donation.
The following are a few national treasures that have returned to China which made headlines.
Buddha sculpture from Longmen Grottoes
The "arhat" sculpture, created about 1,300 years ago but lost more than half a century ago, was returned to China by the National Galley of Canada in April, 2001. The 84.3-cm-high limestone sculpture is the upper part of a life sized "arhat" Buddha, from the Longmen Grottoes in central China's Henan province. Construction of the grottoes began during the Northern Wei Dynasty (386-533) and the Grottoes experienced a period of prosperity during the Tang Dynasty (618-907). The Longmen Grottos suffered serious damage in the 1930's and many carved stones were pillaged and transported overseas.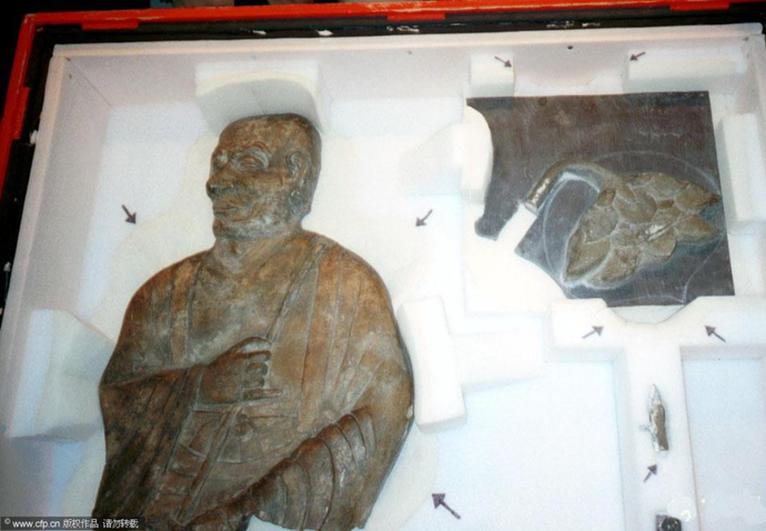 The "arhat" sculpture was returned to China on April 21, 2001. [Photo/CFP]