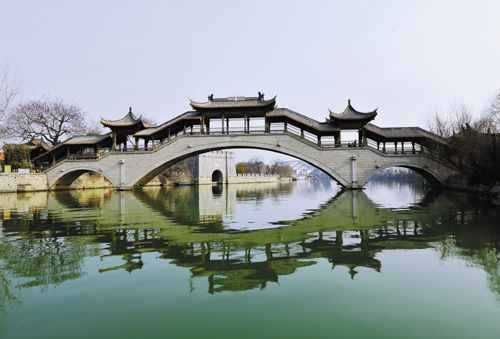 JU CHUANJIANG/CHINA DAILY
The opening and flourishing of the Grand Canal during the Ming (1368-1644)and Qing (1644-1911)dynasties has left rich cultural legacies in Zaozhuang in Shandong province.
Xu Deguang still often reminisces about chanting songs to lead boatmen as they hauled barges through dangerous shoals and rapids along the Beijing-Hangzhou Grand Canal.
The 97-year-old is believed to be the only living inheritor of haozi, a type of folk music sung to synchronize boatmen in Zaozhuang city in southwestern Shandong province, where a significant section of the canal still functions.
"In the past, navigation depended on the song-leader's ability," Xu says.
"He was vital and decided the rhythm and tone, depending on water flow and rowing pace. This enabled the others to harness their collective strength according to the rhythm."
Unlike other places' boatmen's ballads, whose lyrics are mostly improvised, the lyrics of Zaozhuang's haozi are said to have been standardized by Qing Dynasty (1644-1911) Emperor Qianlong. Haozi is now a provincial-level intangible culture heritage.
"Previously, haozi was only used for boats that delivered grain and goods for the royal families from south to north via the canal. The lyrics were approved by the emperor and can't be changed," Xu explains.
There are 11 main haozi forms in Zaozhuang, each with different lyrics and functions. They include those for punting, rowing, mast-hoisting and sail-spreading, shouldering, breaking and overcoming rapids.
Xu grew up in a poor family near the canal. He started to help his parents at age 7 and learned from a veteran lead singer who once worked on the imperial boat.
"The lead singer requires not only a good memory and lungs but also enough knowledge of potential dangers. Few people could do it," Xu says.
But he was well rewarded and enjoyed a good reputation.
"A boat loaded with 50 tons was generally hauled by seven men. It was very cool when I sang and others responded in different voices," he recalls.
"The lead singer earned the biggest salaries among boatmen-about 15 dayang (a Republic of China silver dollar) a month-enough to feed the whole family then. Other boatmen were only paid 4 dayang."
The trade began to vanish when engines started to become more common in the 1950s. "I've seen ups and downs of canal life. I just hope more young people can know the art form and understand bygone days."
The 2,000-year-old Beijing-Hangzhou Grand Canal, the world's longest and oldest artificial waterway, has witnessed much of China's history and is celebrated for its myriad traditional cultures.
According to The Summary of the Ancient Chinese Novel published in 2005, over 70 percent of novels from the Ming (1368-1644) and Qing (1644-1911) dynasties depicted stories set along the Grand Canal during Chinese literature's heyday.
Zaozhuang is the first Shandong city the Grand Canal enters.