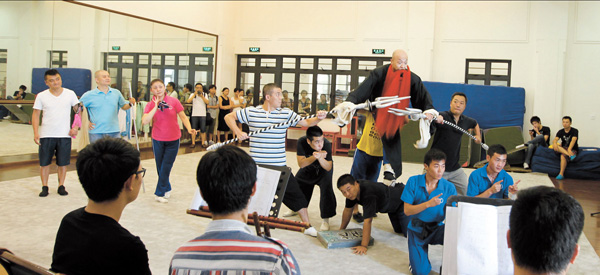 Artists of Shanghai Kunqu Opera Troupe rehearse in their newly renovated base in a villa at 9 Shaoxing Road, while fans take a look from outside. The troupe, now housing a small theater and halls of multi-functions, aims to promote the 600-year Kunqu art by offering close-up appreciation. — Gao Jianping
Kunqu Opera, known as the "ancestor" of Chinese operas, used to be performed mainly for wealthy, noble and royal families in their private gardens and mansions.
The 600-year-old art form is famous for the refinement and elegance of its music, poetic lyrics and graceful gestures. It was never opera for the masses and is best appreciated in small, intimate settings where details can be appreciated.
After a four-year renovation, an old villa at 9 Shaoxing Road recreates the setting and ambience of the opera with a small, 180-seat theater and private salons.
The Shanghai Kunqu Opera Troupe, which has been based in the old mansion, at last has a proper home in what used to be the French Police Club in downtown Shanghai.
"We are lucky to have our own Kunqu-style small theater. Very few traditional operas have their own small theater downtown," says Gu Haohao, director of the Shanghai Kunqu Opera Troupe.
It will open in early October. The date will be revealed later.
The theater will also promote Kunqu Opera, listed as a UNESCO intangible cultural heritage, through talks, seminars and exhibitions. It will provide a platform for young performers.
"The charm of Kunqu Opera doesn't lie in lavish setting but in its delicate singing style," says critic and theater expert Chen Daming from the Shanghai Dramatists Association.
Among all the efforts to revive Kunqu Opera, small theater that emphasizes singing is the best way, Chen says.
"People in a small theater won't be distant from the stage and can have a better appreciation of the opera's vocal arts and charm."
Another example of successful small theater is the real garden version of "Peony Pavilion" at Kezhi Garden in suburban Jiading District, which only seats 200 people. Since it opened in 2010 it has proved successful, attracting around 30,000 theatergoers. It is staged every Saturday at 6pm.
Plays with few characters, simple plots and settings are more suitable to small theaters than large ones, Chen says.
We recommend: