A Ju Que ink stone unveiled at Chengdu Intangible Cultural Heritage festival has a marked price as high as 1.39 billion yuan. That means that we can not afford it even if all the people throughout China paid one yuan for it.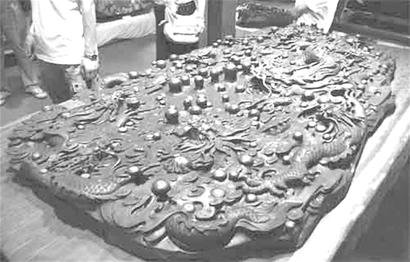 The precious ink stone at Chengdu Intangible Cultural Heritage festival.
The ink stone named "Jiu Long Zhi Zun" (nine awe-inspiring dragons) is 196 centimeters long, 116 centimeters wide, 15 centimeters thick, and the texture of the stone's surface is extremely smooth and delicate.
This ink stone is as precious as national treasure. There are large and small dots of light green on the surface of the black-ink colored stone which makes it look peculiar. These dots are called "stone eyes", and indeed they are coagulation of the stone. The more dots there are on the stone, the more precious the stone will be. There are as many as 229 dots on this ink stone which is the most so far.
The nine exquisitely carved dragons on it make this stone look magnificent and elegant. The eyes of the dragons are all made from the original "stone eyes".