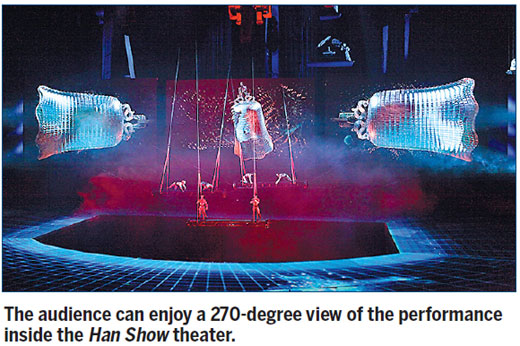 Photo provided to China Daily
A story that goes back centuries is to be told in a theatre built for the future, Zhou Lihua and Li Bo report.
The magnificent Han Show, which opened Saturday, is set to steal the limelight this Christmas and New Year.
Presented by leading cultural industry group Wanda, the show is inspired by stories from the Chu-Han culture that dates back to 200BC, and the city of Wuhan, capital of central Hubei province.
It promises to be an extravaganza of acrobatic and aquatic skills that blends state-of-the-art technology with direction from Franco Dragone, for many years director of the world-famous Cirque du Soleil.
It will take place in The Han Show Theater, an iconic new building shaped like a red lantern, and will feature moving seats and a huge stage pool.
The theater has been specially designed for the 90-minute show. Wanda plans to promote it as a stop for tourists to Wuhan, like visitors to New York who see a show on Broadway.
Moving parts
The 2,000 movable seats in The Han Show Theater are thought to be the first of their kind worldwide. The seats move and lift during the water show performance.
The movable seats in the front of the theatre turn around and the seats in the back area lower automatically as the stage changes shape.
The stage pool is the size of four standard Olympic swimming pools.
The water during the performance could be as deep as 8.7 meters and the total volume could hit 10 million liters.
The pool stage is 58 meters in length, 32 meters in width. It is acclaimed as the world's largest performance pool.
Special underwater video cameras are set to capture the exciting moments.
The transformation from a dry stage to a pool is completed in seconds.
In the pool there are complicated underwater lifts and special effects equipment.
Above the pool, the rigging system and other stage equipment allows performers to fly from around the theatre and land on the stage.
The artists
Artists are the most important element in the performance arts.