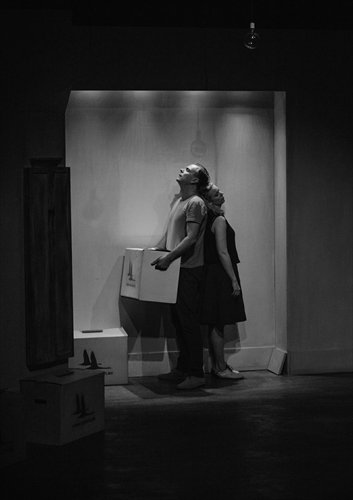 A scene from Ren produced by Fria Teatern from Sweden. Photo: Courtesy of the 6th Theatre Olympics. [Photo/Global Times]
Starting on November 1 and scheduled to run until December 25, the 6th Theatre Olympics has brought 45 plays, 30 of which are from foreign countries, to Beijing. In addition to plays from the UK, France, Germany, Russian and the US, foreign plays also include countries whose theater culture is not as well-known in China such as Sweden's Ren, India's When We Dead Awaken and the Philippines' A Dozen Pairs of Shoes.
"Audiences in China tend to prefer new plays from Europe and the US, leading these to earn public praise and excellent box office results. However, since this is the 'Theatre Olympics' we felt we should provide a look at the entire globe. Although the super powers might be the reigning champions, there's no reason other countries can't participate," said Zhang Yu, the director of one of the organizers behind the Theatre Olympics, the China Arts & Entertainment Group.
Although not as well-known in China, these other countries have some advantages over theater from more mainstream countries.
"We shouldn't hold a snobbish attitude when it comes to culture," Professor Shen Lin from The Central Academy of Drama said after the premiere of Hamlet performed by Lithuania's OKT troupe.
The first performance during the Theatre Olympics by this almost completely unknown troupe in China was such a success that questions about how to buy tickets to the show exploded across social media.
However, the only answer most people received was that the show had already sold out.
According to the rules of the Theatre Olympics, each play can only be performed a maximum of two times. This high demand for tickets to the only remaining show caused prices of scalped tickets to rise to more than double the price.
This was the first time that so many people in China paid attention to this small country by the Baltic Sea.
"No matter if it's theater or classical music, the three countries along the Baltic sea (Estonia, Latvia, Lithuania) are the real super powers," Zhang said.